Covid-19 positive critical care patients could increase from 426 to 877 in next two weeks, internal figures indicate
This would exceed region's planned surge capacity
Trusts told to increase critical care capacity by 150 per cent
Hospitals in the Midlands could exceed their maximum number of critical care beds in just two weeks, data leaked to HSJ indicates.
Internal critical care bed figures for the region, shared with HSJ, show the central forecast is for the number of covid-19 positive patients in critical care beds to grow from 426 now to 681 by 21 January (see slide below).
But images from the internal NHS dashboard reveal the "upper forecast" is for the number of covid patients to reach as many as 877 patients within two weeks.
The region's normal number of critical care beds, or "baseline", is 582. This has already been exceeded, the charts show, with 608 in use, including covid and non-covid patients.
Official reporting to NHS England suggests a maximum of about 800 critical care beds are available across the Midlands, but accessing them involves diluting specialist staffing ratios and standards of care, and redeploying staff.
One hospital director in the Midlands told HSJ that, during a call yesterday, NHSE leaders said trusts must increase critical care bed capacity to 150 per cent of baseline, which would take the region to around 870 beds.
If the number of non-covid patients stayed the same, at about 180, then the region would be virtually out of beds even under the central forecast of 681 covid patients by 21 January.
The source said their hospital was expecting to cancel non-urgent elective work, reduce ratios and redeploy staff. The director added: "Now we're all looking at what we're doing, what we need to stop doing to support [the staffing] ratio. It will be formal cessation of elective work and elective services, mainly."
They also raised questions about whether the NHS should still focus on encouraging people to attend hospitals, with non-covid attendances remaining higher than the first wave.
They said: "We're struggling with the messaging of 'keep going', 'come to the NHS', 'everything is okay'. During the first wave, of course, what happened is we saw an absolute U-turn on attendances but the mixed messaging [now] is really difficult at the moment and I think what we're all struggling with is [whether] we are making the right decisions."
The Midlands region is under less pressure at the moment than the South East and East of England, but is still seeing rapid growth, and covid cases are rising.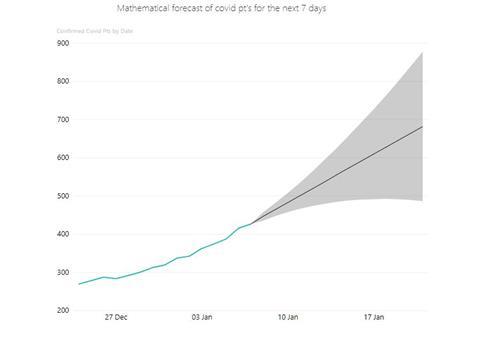 The information shared shows that, in the Midlands, there are three hospitals whose critical care capacity is above 150 per cent of baseline — Good Hope Hospital, run by UHB, is currently running at 200 per cent of normal total beds.
Seven hospitals in the region have declared CRITCON level three as of today — the second highest alert level. Level four CRITCON can only be declared with NHSE's approval.

One senior critical care nurse in the Midlands told HSJ: "As a critical care nurse its horrendous trying to provide care for more than one patient.
"What is not always captured is just how sick the covid patients are…They're sick, they're so so so sick. Most of those patients [who are that ill] in any other time would would probably have two ICU nurses because they're so ill. They've very, very unstable.
"This is the single most sick group of patients I've looked after. We're constantly running from one alarm to the other and its draining because its physically and emotionally exhausting. We're having to save peoples lives and I don't mean that dramatically. I've never worked at this continued pace and there's just no end."
NHSE was approached for comment.
HSJ reported yesterday that London's hospitals were forecast to be overwhelmed by covid patients within a fortnight.
Source
Information obtained by HSJ