Royal college calls on NHS England to issue clearer messaging to help resolve the problem of ambulance queuing
Data suggests new record high for 12-hour trolley waits in A&E in December
Dr Katherine Henderson says messaging has not faced up to dangers of being in crowded departments
Emergency medics have called on NHS England to issue clearer messaging to help resolve the problem of ambulance queuing, which they describe as "triply wrong" during a pandemic.
In an interview with HSJ, Dr Katherine Henderson, president of the Royal College of Emergency Medicine, said medics have become increasingly concerned about the lengths of time patients are waiting in ambulances outside accident and emergency departments, or on trolleys waiting for admission to a bed.
Internal NHS data revealed by HSJ last week suggests December will set a new record high for 12-hour "trolley waits" in A&E. A separate measure used by RCEM also suggested the last week of December was the worst they had recorded.
There have also been long ambulance queues at hospitals across the country, with delays of up to six hours for ambulances to offload patients to hospitals in areas such as London.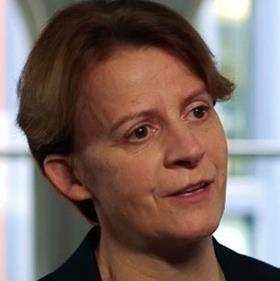 Dr Henderson said: "It was never right to have ambulance queues, but it's triply wrong when you've got an infectious disease on-board.
"The reason we can't offload is we can't get patients out the back end of the department. We're in a situation where exit blocking is clearly getting worse.
"We've got patients spending hours in the department [and] we've had missed opportunities, we believe, to [get a] message to trusts, that exit blocking really matters. We have raised this directly with NHS England.
"[NHSE's messaging] has not faced up to the danger to emergency department staff and patients of being in a crowded environment. We're told that they acknowledge the problem but very often the messaging doesn't focus on 'you've got to find ways of sorting this out.'"
Dr Henderson added that more general and acute beds are needed to ease overcrowding, and trusts could also promote same-day emergency care and remote consultations to alleviate the problem.
Meanwhile, RCEM has argued the official 12-hour trolley wait figures hugely flatter of the real situation, as the data only measures the time between a decision to admit and admission to a ward.
It has developed a new measure which counts the total waiting time from when the patient arrives in A&E to when the department is no longer responsible for their care.
Data collected from 35 trusts in December suggested they had 9,794 waits of more than 12 hours under this definition, compared to what is expected to be around 3,000 nationally under the official definition.
In the fifth week of December, RCEM's data suggested almost 5 per cent of patients waited more than 12 hours, the highest proportion since they began collecting this data.
NHS England did not respond when asked to comment.