Daily briefings indicate UK behind France in covid-19 deaths 'curve'
But France's figure includes non-hospital deaths
Hospital deaths in France more than 1,000 less than in UK
The government's daily coronavirus briefings have repeatedly and incorrectly indicated that the UK has fewer coronavirus deaths than France, based on the numbers of deaths in hospitals, HSJ has learned.
The global death comparison chart used in the televised briefing on Monday 13 April showed covid-19 fatalities in France were just above 14,000, as compared to the UK total of 11,329 confirmed hospitalised deaths. Chief scientific adviser Sir Patrick Vallance said the chart only "looks at deaths in hospital".
But, according to Public Health France, the figure for France included deaths from outside hospitals, such as in care and nursing homes. In fact, on 13 April, there had been a total of 9,588 reported deaths of covid-19 patients in French hospitals, from the total of 14,967 deaths in all settings.
It means the UK is in fact above France's trajectory of reported covid-19 deaths, along with that of countries such as China, Germany and South Korea — even though the UK is further behind France in development of the outbreak (with fewer days passed since 50 cumulative deaths were reported).
There is huge public debate over how the UK is faring in terms of deaths compared to other European nations and the government and its advisers have constantly referrred to the 'global death comparison' data to defend their position.
Yesterday's slide from the UK government. Orange cross added by HSJ indicates the actual reported hospital covid-19 deaths for France.
At the briefing on 13 April, Sir Patrick said the global deaths comparison chart "doesn't carry all deaths in this, it looks at the deaths in hospital".
He said: "And the reason it looks at deaths in hospital is that's the international standard and which everyone else is doing in terms of reporting deaths.
"There are of course unfortunately many deaths that also occur outside hospital. We're tracking behind Italy, we're following the same sort of path.
"I think this week we're going to see a further increase, thereafter we should see a plateau as the effects of the social distancing come through. That plateau may last for some time then begin to decrease."
The UK was again shown as being below France's deaths trajectory during the briefing on 14 April.
When asked about the discrepancy at the 14 April briefing, neither Yvonne Doyle, medical director of Public Health England, nor Stephen Powis, national medical director for NHS England, acknoweldged the error or apologised.
Professor Doyle: "There are so many measures of death […] that it can be very difficult to understand what exactly you're looking at.
"One of the things we're doing all the time is speaking to our European neighbours to understand not just what they're measuring but what they consider best practice to be and how we can learn together about that."
Professor Powis added: "There are differences in the reporting of all sorts of statistics from different countries and it's really important to ensure that is taken into account when you are doing that comparison."
Data released today (14 April) from the Office of National Statistics, based on death registrations, indicates that about 90 per cent of covid-19 deaths in the week to 3 April occurred in hospital — meaning the UK's total fatalities may well be at least 10 per cent larger than currently reported by the Department of Health and Social Care.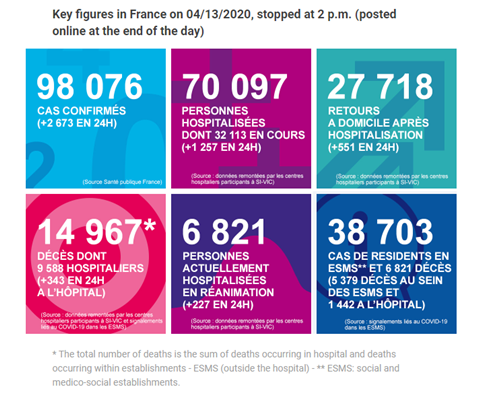 A study by researchers at the London School of Economics has suggested between 42 per cent and 57 per cent of coronavirus deaths in Italy, Spain, France, Ireland and Belgium have been taken place in care homes.
A Department of Health and Social Care spokeswoman said: ''We are completely transparent about how we are reporting data.
"France changed their reporting process on 2 April from reporting just hospitals deaths to reporting all deaths. As a result, figures that day showed an increase from 509 to 1355 deaths.''
''Health systems and processes vary tremendously between countries. We're confident that our reporting systems are amongst the best in the world.''
Updated on 5:30pm, 15 April to include comment from Department of Health and Social Care.
Source
Government daily briefings, Public Health France