Requests made to send critical care patients from London to Yorkshire
Intensive Care Society president says NHSE will need to point "full force of NHS resources" at covid-19, meaning widespread elective cancellations
Internal data, seen by HSJ, showed critical care capacity in London and the South East was over 110 per cent last night
Requests have been made to transfer patients in need of intensive care from London to hospitals in Yorkshire, HSJ has learned, as leaked figures reveal that critical care is running at more than 100 per cent of capacity across the south east and east of England.
And responding to the situation, the president of the Intensive Care Society told HSJ that NHS England would need to do more to focus the "full force of NHS resources" on covid-19 care, including endorsing the cancellation of all routine operations requiring an intensive care bed.
Senior sources in intensive care confirmed there had been requests in recent days for transfers from London to several major hospitals in Yorkshire, because of a lack of capacity in the capital. It is not yet clear whether the transfers have been made, or will be in coming days. The requests so far relate to small numbers of patients.
There are also reports of a critical care transfer of a covid-19 patient from East Kent to Plymouth, in Devon, although the trusts involved have declined to comment on the reason for this.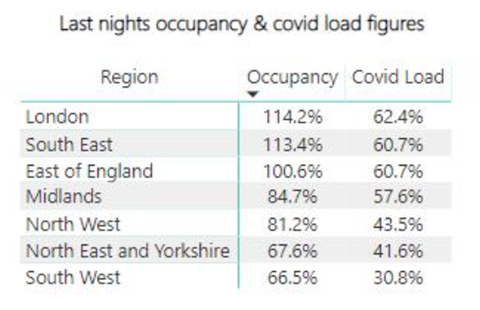 Images of an internal NHS critical care capacity dashboard seen by HSJ (see left) revealed intensive care unit occupancy in London and the South East on Monday night was at 114 and 113 per cent respectively, and it was 100 per cent in the East of England.
This represents the number of patients in units as a share of their "standard footprint". Being over 100 per cent means they have had to substantially "surge" their capacity — often requiring diluting staffing, and cancelling other hospital services to redeploy staff. In each of those regions, more than 60 per cent of cases were covid.
Critical care patients are more often transfered with regions, but long-distance transfers between NHS regions are rare.
One senior critical source said: "While we'd usually keep [ICU] mutual aid within a region, it means the whole country is stepping up to support patients."
A London clinician told HSJ: "People in other areas have been asked to be ready to accept people from London and the South East. These inter-regional transfers have already started to happen outside London and are clinically justified if units are beginning to be overwhelmed…
"Capacity in London is looking very serious at the moment: the numbers are still going up. Several hospitals are either at or near their full surge capacity. There is fairly extensive transfer activity between hospitals. It looks like that is going to be the case for a fairly extended period of time and is likely to get worse in the aftermath of the holiday period."
Speaking to HSJ, Intensive Care Society president Stephen Webb said: "We need a message to the public but also to NHS England & Improvement to say that we are reaching a crisis, and we do need the full force of the NHS' resources pointed towards hospitals to support patients with covid-19…
"We need to acknowledge that really only emergency and urgent operations which require ICU beds can go ahead, so that more staff can be relieved to treat patients with covid-19. We need to ensure that all resources are allocated towards tackling covid-19 and that this is the focus.
"We want the whole system to recognise the pressures that ICU staff are under and to ensure more resources are given to [emergency departments] and respiratory support units, as well to ICUs to cope with what is going on: staff and equipment, to ensure safety standards are met as closely as possible. We need to ensure everybody is working in the same direction."
He said the current rapid growth in hospitalisations and cases meant NHSE's regional approach to decisions on elective care, so far through the second wave, may no longer hold. He said: "There needs to be a realisation that some hospitals [which are] still doing some elective work may need to make plans to stop, and that some patients might need to wait. The chance of getting an elective operation which requires an ICU bed, at present, is extremely slim in some regions."
NHS England was asked for comment. Last week it said that "with covid-19 inpatient numbers rising in almost all parts of the country, and the new risk presented by the variant strain of the virus, [local NHS leaders] should… continue to safely mobilise all of their available surge capacity over the coming weeks".
Another image from the internal regional critical care dashboard, seen by HSJ, showed in the last 14 days the number of confirmed covid-19 patients in London critical care units had doubled from just over 300 to 636.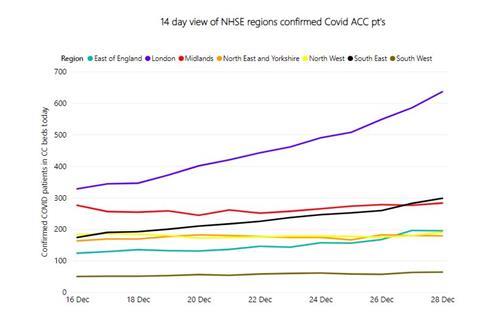 The dashboard also highlights pressures in the Midlands region growing over the past seven days, although it is at a lower occupancy overall than the south east and east. The majority of hospitals in the region were well above 100 per cent capacity of their level three (the highest level) of critical care, indicating they had also had to use surge capacity.
The below table, taken from the critical care dashboard data leaked to HSJ, shows critical care occupancy figures for each NHS region as of last night:
| | | |
| --- | --- | --- |
| Region | Critical care occupancy of "standard footprint" | % covid-19 patients ("covid load") |
| London | 114 | 62 |
| South East | 113 | 60 |
| East of England | 100 | 60 |
| Midlands | 84 | 57 |
| North West | 81 | 43 |
| North East and Yorkshire | 67 | 41 |
| South West | 66 | 30 |
HSJ asked NHS England how many inter-regional transfers had taken place in the last month because of a lack of ICU capacity. It did not respond specifically to this question but said the NHS' plans to manage "significant pressure" have always included mutual aid to manage admissions.
The statement added: "While the NHS is opening more beds in places like London to care for the most unwell patients, it is vital that people continue to follow government guidance and do everything possible to reduce transmission of the virus."
This story was updated on 30 December at 12:34 with a response from NHS England.
Source
Interviews and information shared with HSJ