The must-read stories and debate in health policy and leadership.
Coronavirus update
The concerning issue about the increasing number of covid-19 deaths outside hospital, in particular within care homes, and how to report them was raised again on Friday at a Commons committee hearing with Matt Hancock.
It appears the combined analytical resource of Public Health England, the Office of National Statistics, NHS England, the Department of Health and Social Care, and the many management consultants they are now engaging has proven insufficient to capture the data.

The health and social care secretary said the Care Quality Commission was also now involved in trying to more quickly and accurately chart the hugely significant issue.

It comes as new analysis of ONS data by HSJ shows "excess deaths" taking place in England and Wales which are not formally being attributed to covid-19 are much higher in care homes, and in people's own homes, than in hospital.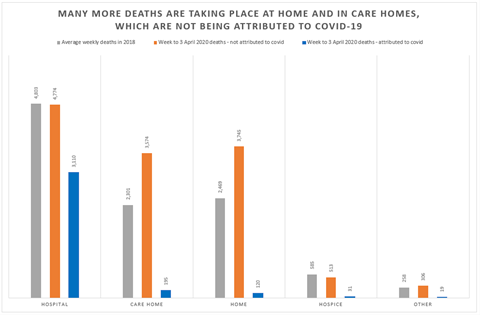 If covid-19 attributed deaths are discounted, then fewer hospital fatalities took place in the week ending 3 April (the most recent to be reported) than did in an average week in 2018 (the latest figures available).
But in care homes and in people's own homes, many more deaths took place which have not been linked in death certificates to covid-19, compared to the 2018 figures (and indeed, compared to the number a few weeks earlier, before covid-19 hit in earnest).
The reasons are not yet certain. But it is likely to be a mixture of deaths which are actually caused directly by coronavirus but have not been formally attributed to it — with the vast majority of testing so far going to hospital patients — and additional deaths taking place for other reasons, potentially as "collateral damage" of the response to covid-19 by government, individuals and the health service.
The size of the discrepancy for only a single week to 3 April suggests a figure of 1,400 total deaths in care homes from covid-19 given by Care England this week may be a substantial underestimate.
In other news, dozens of staff from Virgin Atlantic are now training to answer 999 calls after being furloughed by their own company. The staff should be joining South East Coast Ambulance Service Foundation Trust's emergency operations centre in Crawley shortly to help deal with the coronavirus crisis.