Deaths reporting will speed up, says Hancock
Fewer NHS staff have come forward for testing than "anticipated"
Deaths due to covid-19 in care homes have been substantially underestimated by official government figures, new analysis by HSJ has shown.
The shortfall was confirmed by Matt Hancock when he appeared in front of the Commons health and social care committee this morning. He said the Care Quality Commission was collating data on deaths of care home residents which would be published "shortly", as part of efforts to speed up reporting.
HSJ's analysis of data released by the Office of National Statistics shows that, if covid-19 attributed deaths are discounted, then fewer hospital fatalities took place in the week ending 3 April (the most recent to be reported) than did in an average week in 2018 (the latest figures available). However, in care homes and in people's own homes, many more deaths took place which have not been linked in death certificates to covid-19.
These may be a mixture of deaths which are actually caused by coronavirus but have not been attributed to it — with the vast majority of testing only taking place for hospital patients — and additional deaths taking place for other reasons, potentially as "collateral damage" of the response to covid-19 by government, individuals and the health service.
The size of the discrepancy for only a single week to 3 April suggests that a figure of 1,400 total deaths in care homes from covid-19 given by Care England this week may be a substantial underestimate.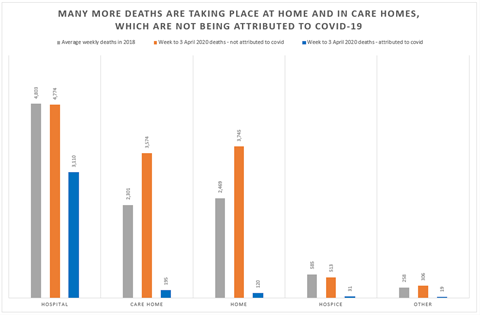 The health and social care secretary told the Commons health committee on Friday that he believed the ONS was speeding up its reporting of all deaths, and would be publishing figures with a five-day turnaround. ONS data published this Tuesday 14 April covered until 3 April (an 11 day gap).
It comes amid major concerns that deaths outside hospital are being underreported, with the effect of underestimating the toll of the virus in the UK.
Mr Hancock told the committee there had been more deaths of care home residents than had so far been reported by the ONS, and the share of deaths taking place in homes was higher than so far reported.
"I have asked the CQC to make sure we record the deaths of those who are residents of care homes. They started to collect that data yesterday and it will start to be published shortly."
The health and social care secretary was also pressed by the committee on the amount of testing for coronavirus taking place.
He confirmed there was "spare capacity" in current testing facilities because, he said, "in the NHS the number of staff coming forward for testing [has been] lower than was anticipated". Because of this, eligibility is being extended to other priority groups, he said.
Mr Hancock told the committee NHS staff absence for covid-19-related reasons was now 7.1 per cent overall — down from about 8 per cent reported over the past two weeks, although higher rates have been seen in particular areas and staff groups.
On its role in collating care home deaths, the CQC told HSJ: "We are currently working with ONS to explore how to provide more detailed and timely picture of the impact of coronavirus on adult social care, using the data on deaths of people with suspected and confirmed covid-19 that we collect from providers.
"This will also give a regional view of which areas are being most impacted and may need additional support as a result. We are working closely with ONS on how our data could be used to inform their public reporting, with details confirmed shortly."
Source
HSJ analysis; Commons committee hearing