The fire and rescue service transformed from being reactive to focus on prevention − a journey from which the NHS could learn a thing or two, Alan Penton tells Daloni Carlisle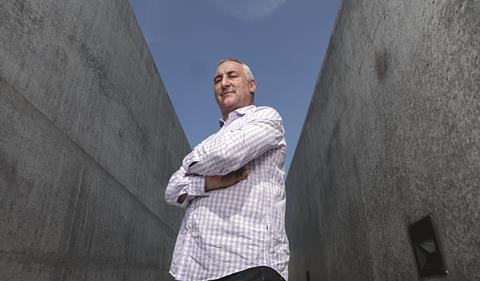 Alan Penton
When Alan Penton joined the Merseyside Fire and Rescue Service at 18 in 1978 it was a largely a reactive service with heroic firemen rushing out with blue lights and sirens to put out fires. Today, the fire and rescue service is heavily focused on prevention. Domestic fires are down by 40 per cent in the past decade and accidental deaths are at an all time low. The journey between then and now has been one of national strategy supported by local innovation from progressive leaders at all levels − and it's one from which the NHS could learn.
'I had credibility − I'd spent 16 years on a fire station as a firefighter, manager and station manager. That credibility is key to making change'
Mr Penton's personal journey represents one of many similar that together have delivered lasting change. He completed 32 years in the fire service in 2010 and now works as a community engagement and risk specialist − he developed and implemented a risk strategy for Media City in Salford as it transformed from a derelict site to the shiny new home of the BBC. He was appointed as a fellow of the NHS Institute for Innovation and Improvement in 2010.
Back in 1978, he says, it was pretty much possible to predict where the next fire was going to be. "We'd be driving back from an incident and see a building, maybe boarded up with some young people hanging around outside smoking, and we'd say: 'We'll be back here in an hour.' More often than not, we would be."
There was nothing for young people to do and starting a fire was a form of entertainment, he says.
"The more serious aspect was the number of people being killed and injured in domestic fires. We did not have the data or the intelligence to identify where the risk areas were, but we knew from our experience that it was more often the vulnerable people who were affected - people with physical disability, with learning disability or mental health problems, people in social housing. They were the victims of injury and death."
While there was significant legislation around fire safety in the workplace, the adage that an Englishman's home is his castle held true in tragic fashion for home fire safety, he adds.
Taking action
Even then it was clear to Mr Penton - and others - that something had to be done. "I would ask myself: 'Why is this happening? We are going to incidents that we know are going to take place and where we know who the victims are likely to be and doing nothing to stop it.'"
Slowly that began to change. The fire service's first success was the campaign to make foam filled furniture safer, with legislation introduced in 1988.
"That was driven by the fire service, which was starting to use the intelligence we had," he says. "We knew what happened when foam furnishings caught fire, how rapidly fires developed and spread and how toxic the fumes were."
By this time, Mr Penton had moved to Kent, where in 1998 he took his first managerial role, before becoming station commander in Tunbridge Wells in 1996. It was here that one key incident really began to change things for him.
'The key thing the fire service has to offer − and here it is a bit like the NHS − is a brand'
"The YMCA Centre in Tunbridge Wells burned down − it was a big fire for the town. It was set deliberately by a young man and the police apprehended him quickly. I was approached by the probation service to see if I could help. The young man − boy really, he was 14 − was on the cusp of entering the criminal justice system and the probation officer felt there was a chance to prevent him going further.
"Firefighters at the station were already running Duke of Edinburgh schemes but − and no disrespect intended here − it was reaching young people who already had aspirations and not the young fire raisers.
"I thought about it and asked the firefighters if they would be interested in delivering a Duke of Edinburgh scheme to this boy and some others like him and they said yes," says Mr Penton.
"We weren't interested in a quick 10-12 week programme but in getting these people to do their bronze, silver and gold awards. We wanted to establish a relationship with them and their community because, let's face it, these are the people who sometimes abuse firefighters, verbally and physically."
Mr Penton secured not just the enthusiasm of the firefighters but also some sponsorship and, as a small budget holder, was able to divert some of his station's funds into the scheme.
"It was a success," he says. "We got them through the programme and engaged with their whole families. I was performance managed on the budget I put into the scheme and it was seen as a really positive piece of work."
Building a culture
That success started to build a culture and by the early 1990s a whole range of policies began to drive a more concerted change.
"We began to see more performance management, and to look more systematically at data and use it as knowledge, identifying hot spot areas where we could start to address issues," says Mr Penton. "We recognised early on that we could not do it alone − that we would need to work with social landlords, with local authorities, with the voluntary sector, and health."
National policies and references began to give the fire and rescue service some language to wrap around what they were doing: crime and disorder reduction, or addressing the social determinants of health.
"Take crime and disorder," says Mr Penton. "Two people a week are still killed in arson attacks. People living in socially deprived areas are 15 times more likely to be the subject of an arson attack."
'You have to take organisational risk… you need to manage risk taking with its intended and unintended consequences'
He was an enthusiastic member of the Crime and Disorder Reduction Partnership in Tunbridge Wells, set up in 1998. Under its auspices he started an initiative going door to door in socially deprived areas, offering advice about fire prevention.
"The key thing the fire service has to offer − and here it is a bit like the NHS − is a brand. We are seen as heroic, supportive, helpful and trusted. We'd park on a street, knock on doors and ask: 'Do you mind if we come in and talk about fire risk? We've got free smoke alarms.' People said yes right away - and these are houseproud people, mind, who wouldn't let their best friend in if they were doing their washing."
The firefighters would talk about cigarettes starting fires and collect information about smokers and - with consent - pass this hyper-local data to the primary care trust to target smoking cessation.
It all sounds very easy when Mr Penton talks about it. The reality was rather different. "I cannot stress enough just how difficult this was," he says.
Huge challenge
"It's a huge challenge. People join the fire service because they want to drive a fire engine to incidents with the blue light and the two-tone siren and deal with the incident successfully. For want of a better word it is sexy − it's what they make TV programmes about.
"Imagine the conversations. They'd tell me: 'I joined the fire service to fight fires.' My first response would be to remind them of the tenets of the fire service - to save lives, render humanitarian assistance and save property.
"I told them: 'I would be as proud of you being awarded for an act of heroism as I would for going into a house and giving people the advice and fire alarms that stop a fire happening or them getting hurt.'"
Did they believe him? "I won't say it was easy. But I had credibility − I'd spent 16 years on a fire station as a firefighter, manager and station manager. That credibility is key to making change."
The next problem was that firefighters were encountering situations for which they were not prepared, including drug and alcohol problems, mobility issues, domestic violence, child neglect and mental illness. "The instinct of the firefighter is to act immediately and, no disrespect to people in health or social care, but a referral to another agency could take weeks and did not really answer that need."
So he began promote the concept of employing people with the skills directly − drug and alcohol advocates, older people's advocates, advocates from different minority ethnic groups. They made immediate interventions and handled interagency referrals. Which led to another issue. Should these advocates wear the uniform? Yes, he says − this was a key element of community trust.
Challenging perceptions
Mr Penton won't go into the detail about how he achieved this but hints darkly that it was one of the most demanding challenges of all. "Imagine, female Muslim advocates wearing the firefighter's uniform with headscarves… It certainly challenged the image of firefighters."
His career took him back up to Merseyside in 1999 and then to Tayside in 2010 where he saw the same themes playing out and continued a wide range of initiatives to drive a change from reactive to preventive. Marmot's Fair Society, Healthy Lives review of 2010 specifically cited Merseyside Fire and Rescue Service as an example of how to address social determinants of health.
'It has taken at least a generation or two for the NHS to get to where we are and the idea that it will take five years to change is planning to fail'
Today, the fire and rescue service is barely recognisable from 1978 and the preventive work is stepping up a gear. In Margate − famous as a Portas shopping town − the fire service now leads a community intervention task force going from door to door in two of the poorest wards. Residents are asked what public services they need and, latterly, have been asked for their solutions to the community's problems of high crime rate, poor housing and poor health.
"This is bedsit land," says Martin Skeet, group manager for Kent Fire and Rescue Service who leads the task force that has, to date, visited more than 3,000 homes. "We are uncovering the extremes of vulnerable people living in complete squalor and disconnected from everything."
The task force asks 14 public service providers from health to social services, the police to Job Centre Plus, to commit workers to sit alongside each other and work together, sharing information in a confidential setting.
"I can now get a health visitor to a resident within an hour if I need or I can get people registered with a GP," says Mr Skeet. "But, just as important, I now understand what health visitors do. It is a very simple model but very effective."
Taking risks
Mr Penton's final ingredient for making change is taking risks.
"You have to take organisational risk," he says. "Yes, you have a duty as a service manager to manage against foreseeable risk but I argue that you need also to manage risk taking with its intended and unintended consequences."
Such as? "If you reduce incidents you may reduce the opportunity for developing hands-on experience. So then you have to develop new ways of training such as simulation."
But if domestic fires and callouts are at an all time low, what about the number of firefighters and the cost of the service? Have the benefits been realised?
In May 2013, Sir Ken Knight, the UK's former chief fire and rescue adviser, suggested not. Neither its £2.2bn annual budget nor the number of firefighters had fallen in the past decade. Collectively, the 46 local fire authorities had amassed £400m in capital reserves. Sir Ken recommended that a single national fire authority be created and that it invest this £400m in "spend to save" initiatives.
Behind the headline figure, though, is a familiar tale of wide variation in management costs and efficiencies in individual fire authorities. Mr Penton says that as he completed his active service, new staffing models were being tested in the more go-ahead areas, which have realised the benefits of prevention.
Lessons for the NHS
Are there lessons in all this for the NHS? Mr Penton believes there are. Lessons about working differently, for a start, and taking a long term view.
Just like the fire service, change needs to come not just from those who work for the NHS but also those who use the service, he suggests.
"It has taken at least a generation or two for the NHS to get to where we are and the idea that it will take five years to change is planning to fail," he says. "I do think the financial challenge is an opportunity to do things differently. Why would you change when everything is comfortable?
"It's about the culture, the leadership, the strategy and allowing people to make mistakes. Engaging with those that deliver and receive the service will more often than not identify the problems and the solutions for you. Ultimately, though, it is about having conversations and doing a lot of very simple things for a long time."
Alan Penton: 'The idea that it will take the NHS five years to change is planning to fail'
1

Currently reading

Alan Penton: 'The idea that it will take the NHS five years to change is planning to fail'

2

3