The health service is failing at being a trailblazer for sustainability and we're living on borrowed resources as a result, architect Sunand Prasad tells Jennifer Taylor.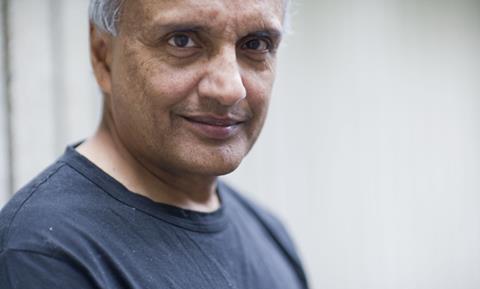 The public sector, and the health sector in particular, has a responsibility to lead the way on sustainability, believes award-winning architect Sunand Prasad.
"The key thing the health services ought to recognise is the nexus between health, wellbeing and sustainability," he says. "In other words, this is an area in which we can get fantastic value out of doing the right thing. To think about sustainability is not going to be a net cost; it's going to be a net value generator. And that's the penny that's really got to drop."
The difficulty, he argues, is the short-termist culture that often dominates the NHS. If there was a system in which trusts could genuinely plan and spend for the long term it would be possible to save money, get great value, be more sustainable and be more healthy all at the same time. And when people start to plan health services in that way they realise the links that exist with other areas related to lifestyle - like city planning, transport systems and infrastructure, and greenery.
'It's absurd to be short-termist in the health services of all places because surely health is about the long term'
"It's absurd to be short-termist in the health services of all places because surely health is about the long term," Prasad argues. "The era of conquering infectious diseases is pretty much behind us. We've now got chronic illness [and] lifestyle diseases which are far harder to conquer. They all involve a long game - there's no magic bullet, you can't give somebody a vaccination or a pill and make them unobese."
Prasad's firm, Penoyre & Prasad, has a particular interest in health and education buildings. Recent projects include the Athletes' Village Health Centre on the site of the 2012 Olympics Games, the Richard Desmond Children's Eye Centre at Moorfields Eye Hospital in London and the ongoing Guy's and St Thomas' Foundation Trust tower.
Prasad, who made sustainability a key theme during his term as president of the Royal Institute of British Architects, says the health sector has been particularly slow to reduce carbon emissions and address water use and waste management.
"What's been achieved in schools and in higher education is more impressive so far than health," he says. "Given the fantastic opportunity that we had when there was a little bit more money available and we substantially extended and built 100 new hospitals, it's quite spectacular that not one of them can be held up as a real exemplar of sustainable design."
Prasad feels the lack of progress has been because it's "a slow emergency" and people in the health service have not felt it as a day to day imperative. And while the UK government has been better than many others at setting targets, it has not been so good at allocating funds to match them.
Carbon budgets mean the nation is now theoretically on track to do its bit for sustainable reduction of carbon emissions. But digging beneath the statistics reveals that actions to change practice are well behind on three fronts: energy efficiency of buildings; decarbonisation of the energy supply; and the behaviours of organisations and individuals.
Sunand Prasad
1988: Co-founds Penoyre & Prasad Architects, which goes on to design a number of award-winning healthcare buildings
1999: Becomes one of the founding commissioners of the government's Commission for Architecture and the Built Environment
Is elected to the council of the Royal Institute of British Architects in 2004 and in 2007 becomes its president. During his two year term, he works to raise the profile of low energy and sustainable buildings. In 2008, he is ranked 26th in the Independent on Sunday's list of the nation's top 100 environmentalists
2008: Appointed as a member of the mayor's Design Advisory Panel for London
2011: Becomes a member of the UK government's Green Construction Board
Energy debit
Prasad, a member of the government's Green Construction Board, feels that tackling these areas continuously goes into the "too difficult basket" because they don't give an immediate return on investment other than in energy savings, and because "energy has been virtually free for 200 years".
"If the energy use we have been indulging in represents its own version of the credit crunch - meaning we've lived on borrowed resources - then we are in huge debit as regards the true cost of the energy that we've used. This is because the clean-up after that and the true costs have not been factored into the price paid by the consumers [and] because it's just stuff that's come out of the ground and we've enjoyed it."
Culturally, change in the health service tends to be very difficult and slow. Certain private companies get the bit between their teeth and when there is a real will and effective leadership they can achieve fantastic results. But there is great inertia in the public sector, which needs the permission and support of central government to lead the way in this area - a government that may change either its mind or its make-up.
Prasad says this has been the biggest challenge in designing for the public sector: "Because of the successive reforms to which the NHS has been subjected, we've often been the last person standing in the past."
That's settled down a bit and Penoyre & Prasad has had great experiences in Northern Ireland, with excellent continuity from the client. "Some of our best work is there and some of the most spectacular results in health service reform have been in Northern Ireland because of that continuity and clarity," Prasad explains.
Another challenge is the hydraheaded nature of the client body; that has particularly been the case in public private partnership and private finance initiative projects.
"For us the best projects are where there's a very strong relationship between client and architect and, indeed, the whole design team and architect," he says. "They're the ones we not only enjoy best but do our best work with."
Being the client for a health building project is a challenging job in itself, says Prasad, who contributed to a Commission for Architecture and the Built Environment guide called Creating Excellent Buildings: a guide for clients, which was published in January 2011. Discernment is an important characteristic, particularly when selecting the designer or architect. Once the selection has been made, a good client is so confident of their choice they display a degree of trust - while being critical and putting their views across.
The amount of money involved in any building project is substantial and many people are not experts at spending that wisely. Clients who get the right advisers can be decisive and have a realistic attitude towards what risk they should take and what risk somebody else should take. Prasad says: "It's a bad client who thinks that you can just say X and Y and then walk away and carry no risk."
Form and function
He believes good design can influence health and recovery and the notion of the big grey box, which compromises beauty to get more value through functionality, is a false equation. "It's a completely meaningless construct that doesn't bear scrutiny when you look at the practicalities of making buildings," he says. "You can't simply segment aesthetics and functionality and durability into neat little separate packages because they're all interlinked."
As he points out, a grey box would need windows. It would also need light and air because human beings need them to survive. And it needs to last under the weather. Prasad says: "When you start looking at the true costs of the difference between a grey box and a not so grey box, you'll start finding that the grey box isn't the cheapest solution after all."
'The idea that aesthetics is what's costing money is just completely fake'
It is possible to reduce the benchmark cost per square metre of building a hospital and it is possible to maintain quality by mass producing identical operating theatres and other components - a process that is beginning to happen. But when attempting to cut benchmark costs on a single building there is a point below which quality will be sacrificed.
"I would argue that the quality you'll sacrifice will be functional quality," says Prasad. "I think the idea that aesthetics is what's costing money is just completely fake."
He adds: "People often look at the big glass entrances to modern hospitals and say 'what a waste of space, that could have been used for X, Y or Z'. There may well be badly designed hospitals that have wasteful atriums but that doesn't mean that every atrium is intrinsically wasteful. I can show you hospitals where the atrium has actually increased, at low cost, the amount of light, air and circulation. Chelsea and Westminster is a good example."
And if a hospital makes a patient feel cared for and they can easily find their way around, their anxiety levels will reduce, they won't feel abandoned and lost while waiting for an appointment, and their serotonin levels will be positively affected. That leads to a better patient experience with perhaps fewer returns to the hospital.
Patients may learn about preventing health problems at the hospital because the atmosphere isn't one of a clinical factory to mend problems but one of helping to sustain health. Prasad says: "If all that happens, you probably can see the cost of that hospital as a very valid investment rather than a loss."
Star question Alex Talbott, founder, nhssm.org.uk
Can a particular colour give a space (ward, car park, home etc) a great chance to make people feel good?
"There are some colours that we all know instinctively can be overpowering and strong, but I don't think there's any colour that should be forbidden in use, including red.
"If you compose a space, while being conscious of natural light and colour and also how it looks when it's dark outside and the lights come on, you can make a tremendous difference to the feeling of cosiness or calmness that is created.
"For example, you want a patient room to be calm, cosy, comfortable, uncluttered. You might want a waiting area to be a little more buzzy, wakes you up a bit, but relaxing at the same time. You might want a nursing station to be efficient and purposeful looking. You can affect all those moods with the use of colour and light but I don't think there are any prescriptions. There are many ways of doing it, but when somebody gets it right there tends to be remarkable unanimity of response.
"Maybe one thing we don't do enough of is describe the emotional quality of space, and put in the brief how we want it to affect our emotions. We tend to talk about floor areas and clinical adjacencies, which are absolutely vital, but they're only the first step on which you then build the real sense of place and space. We probably don't do that well enough, and I blame architects equally for that, I think that we're all complicit."
Star question Andy Cowper, editor, Health Policy Insight
How important is maximising natural daylight and fresh air flow for healthy buildings?
"I think it's vital. I'm a complete adherent to that. I also believe it has a direct impact on energy use because if you have natural lighting and ventilation then you reduce electricity use by reducing the use of fans and air conditioning, and so on.
"And if you think about it, that's how we evolved, isn't it? Human beings have evolved to be in the light and also have the apparatus within them to know when to move away from light, when to put the blinds down.
I think we're at our best when we can use that combination of the availability of natural phenomena paired with the ability to control them."
There is too much hot air on climate change
1

Currently reading

There is too much hot air on climate change

2

3