As a former chief constable of Northern Ireland, Sir Hugh Orde knows all about doing public service in the media spotlight. As the NHS braces itself for the Francis inquiry, he urges leaders to keep taking 'sensible risks'.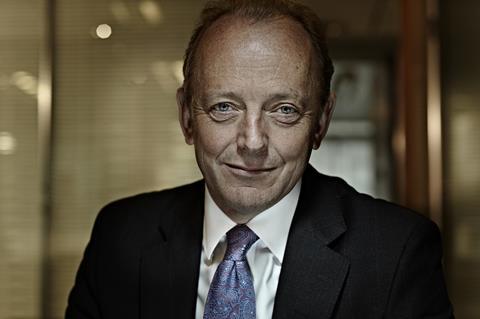 Sir Hugh Orde, president of the Association of Chief Police Officers, receives a lot of invitations to speak and most of them he turns down. But when the invite came to address the NHS Confederation's annual conference in 2012 on courageous and honest leadership he was intrigued.
"I thought it was a fascinating title," he says from his Whitehall office in a follow up interview. "We are leading in difficult times. As always, you learn more at these events than you contribute and I found that there were real similarities [between leading a police force and leading in the NHS]. We are all dealing with government and leadership issues and public perceptions. And we are doing it at a time of financial crisis."
Sir Hugh Orde
1977 joined the Metropolitan Police in London
In the 1990s developed the Met's community and race relations training programmes and Operation Trident to combat drug related crime in black communities
In 2000 had day to day responsibility for investigating collusion between loyalist paramilitaries and elements of the security forces in Northern Ireland
2002 to 2009 was chief constable in Northern Ireland with responsibility for continuing reforms
2009 appointed chief constable and president of ACPO, a role in which he has advocated amalgamating police forces to save money, and spoken out against budget cuts
Sir Hugh may not be an overly familiar figure in the NHS so to recap a couple of highlights in his 35-year police career, this is the man behind Operation Trident, one of the capital's most important and continuing strategies targeting drug related crime in black communities. From 2002 to 2009 he was chief constable for Northern Ireland, overseeing reforms and winning the support of Catholics and Irish Nationalists in the wake of the Good Friday Agreement.
He took up his current position in 2009, representing the views of 334 senior police officers from England, Wales and Northern Ireland. He has been a vocal critic of the 20 per cent reduction in police funding imposed by the coalition government, of pay reform and of the plans to introduce elected police commissioners.
Last August he had a very public spat with Home Secretary Theresa May on Newsnight when he contradicted her assertion that politicians were responsible for a change in police tactics in the London riots.
Empowered to act
Despite being what by any stretch of the imagination must be considered courageous, he argues that he just does the job he is paid to do fairly, independently and honestly.
Rather, he says, the role of the leader lies in empowering frontline officers to do the right thing.
"You realise pretty quickly that 99 per cent of the people come in to do a good job," he says. "But many leaders spend their time focusing on the 1 per cent who don't. I want to lead the 99 per cent and convince them that they have the authority to do a good job. Frankly, my deputy can deal with the 1 per cent."
Yes, he admits, that is easy to say but much harder to do. "How do you implement that strategy in a hierarchical organisation?" he asks.
He highlights several important elements that are as relevant to the NHS as to policing: working to a code of ethics and principles rather than a strict book of rules; supporting frontline officers as they take risks; becoming comfortable as a leader with not knowing everything that is going on; being honest when things do go wrong; and having a deep understanding of how the communities you work for view your organisation.
In Northern Ireland, for example, he took the force back to its basic code of principles that have stood the test of time since 1829. Its job was therefore clearly about protecting lives but in the new political era the stakes were very high.
He says: "We asked our frontline staff to deal with very difficult territory with very high risks where, quite frankly, they could in essence be driving towards danger, - but they had the confidence that, when they made decisions with little information, no information, conflicting information or downright lies and they sometimes got the decision wrong, the service would protect them."
At the end of his tenure he asked several large groups of officers if anyone felt they had been disciplined for making an honest mistake. "No one could because no one ever had," he says with pride.
So how does a leader balance protecting frontline officers who make mistakes while trying to do the right thing with the public perception of the wrong thing having been done?
This is where honesty comes in. He cites the example of "frankly clumsy" searching by police of Stormont in 2002. "It was not deliberate mischief by frontline officers, they were doing as they had been asked," he says. "But what they did had massive and national and international implications. Very quickly I stood up and said "yes, we could have done that better, it is our fault and we accept responsibility". It sort of killed the debate."
That was in the full glare of the media. Behind the scenes, he held "quiet conversations" with people who truly represented their communities - as opposed to those who claimed they represented their communities.
For example he ate fish and chips at the kitchen table of the late David Irvine, a convicted terrorist, who taught him more about the struggle of working class Protestants against the police than he ever learned from a book. Was it risky? Yes. Was it worth it? Absolutely.
Quiet conversations
In the aftermath of street riots in 2005, sparked by the July marching season, he held more "quiet conversations" and came up with a strategy for 2006 that involved not armoured cars on the street but a handful of officers on foot. Everyone kept to their word and the marches went off peacefully - even if it was a pretty fraught hour or so in the control room. "If it had all gone wrong those officers might not have come back," he says.
He did the same in developing Operation Trident in the late 1990s as the Met struggled to respond to extreme violence perpetrated by young black people on young black people, largely linked to crack cocaine.
He talked to nightclub owners, prostitutes, clergymen. "Was I speaking to people with a long criminal history? Damn right I was. We had to have some pretty honest conversations. We asked 'how do we get into the nightclubs?' They said 'you don't. We do.' So we got organised, we engaged the community and did a lot of third party reporting."
He argues that taking risks is crucial in leadership. "Certainly one of my big fears is that, in the face of public inquiries and condemnation and post event hindsight and 20/20 vision, we are becoming more averse to risk rather than taking sensible risk. I exclude from the agenda stupidity."
He is also a big believer in thanking the workforce, holding regular meetings with 100 to 200 officers at a time in Northern Ireland, showing them a video celebrating achievements and taking their questions. "I must have met with 5,000 people [out of a total 13,000 workforce]," he says. "I can count on one hand the number of stupid questions - and I answered hundreds of them. They wanted to know how to do a better job, had ideas about how they could do things better and had a real thirst for information about the organisation."
Where to cut?
More recently, he has been vocal over cuts to the police. After visiting the US where, for example, public sector cuts in New Jersey have led to the police force losing 48 per cent of its staff and a catastrophic rise in crime, he is more convinced than ever that the role of leader is to protect the frontline.
While he thinks it important to explain the potential damage cuts could do, he adds: "We are all public servants and the government has got a huge job to find billions of pounds. My preference is to blame the banking system but at any rate you have to lead your people through difficult times and focus on protecting the citizen."
And in language that could put him in any NHS boardroom, he says: "We are making all sorts of difficult structural changes, bringing in IT solutions, collaborating. I am confident that by the end of this spending round we will be on target. It is important that we do not get hung up on numbers but focus on outcomes and service delivery transformation."
There are many themes here common with the health service - not just leading in difficult financial times but also, with the Francis Inquiry looming, leading in the face of crises that threaten public trust and risk knee-jerk condemnation from politicians and the press.
But there is one key difference from NHS leaders. Sir Hugh often refers to the fact that he is, above all, a police constable. He came into the force in 1977 as a constable - as do all police officers - and took the same vow, wore the same uniform, did the same job as his officers do today.
And this is where many NHS chief executives will always face a unique challenge: that of leading a professionally diverse workforce.
Star question David Gilbert Director, InHealth Associates
What are your views on leading internal change in the police, particularly regarding attitudes to mental health in the police force?
On August 1 2012 an inquest jury in London found that police used unreasonable force before the death of a schizophrenic man in custody.
Events leading to Sean Rigg's death at Brixton police station in May 2008 had shown an "absence of leadership", jurors found.
It is a case that highlights again the issues facing the police as they deal with people with mental health problems who have become violent and for Sir Hugh it is nothing new. It is, he says, "absolutely critical" to do it better.
"I was looking back at the records of the Chief Constables Council meeting in 1913," he says, holding a copy of a hardbound book. "Top of their agenda then was mental health and drunkenness."
As the jury heard, Rigg - a karate expert who had a long history of mental health problems - had stopped taking medication. Staff at the hostel where he lived called the police when he became violent and threatened staff.
In Sir Hugh's words, he moved from the "controlled space" - the hospital, the school, the hostel - where most public workers operate, to the "uncontrolled space" inhabited by the police.
In all the condemnation, he says, "no one asks the real question: how did this guy end up in the uncontrolled space? A police station is fundamentally the wrong place for people who are unwell to be".
He wants to see rapid removal of people with mental health problems from custody, "by which I mean 30 minutes, not five hours" and is supportive of police forces now looking to employ more mental health professionals.
"There must be capacity to deal with these people and remove the burden from the police," he says. "That will not stop the police responding but it will allow them to return to their primary duty much more quickly."
He is aware of talks between the health secretary and home secretary, who both share his concerns, and hopes to see progress on this agenda. "But the harsh reality is that we are suffering 20 per cent cuts in our budget. If you are looking for a 24-hour response, that's expensive."
'We are becoming averse to risk'
1

Currently reading

'We are becoming averse to risk'

2

3