A fresh approach to leadership based less on extreme control is needed to better manage hospital services while maximising quality, efficiency and value, writes Kate Hall.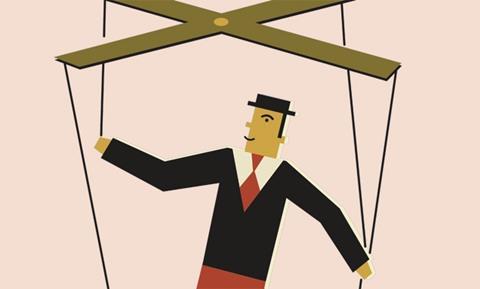 BR8HG0 A businessman being hung by strings like a puppet
It may be quite accidental but the NHS has historically promoted a micromanagement culture, which can be both inappropriate and unproductive. In order to improve the way hospitals manage their services, and to boost consistency in service provision, quality and access, a different kind of leadership is required.
Board leadership
The starting point is board leadership. When we talk about strong board leadership we are not suggesting the board should be micromanaging a trust's operations. Robust board leadership means leading and facilitating the involvement of the whole organisation and ensuring it buys in. This includes clinical teams, operational management and frontline service delivery.
Such an approach requires distributed leadership - essentially allowing people throughout the organisation to take the initiative, yet holding them appropriately to account. You can therefore ensure your culture supports high-quality care, and patient and staff safety.
The Kings Fund 2011 report, entitled The Future of Leadership and Management in the NHS: No More Heroes, cites the challenges facing the NHS to get leaders to engage with staff and organisations in an entirely different way. It reinforces the need to move away from the concept of the "superhero" chief executive to distributed leadership, or leadership at all levels. This is not easy, given the NHS's attachment to micromanagement. But to maximise quality, efficiency and value, a fresh approach is needed.
Board members, senior managers and clinicians need to critically appraise their style of leadership and take calculated risks. They must give permission for controlled disruption and manage the sensation of losing control. This is the essence of leadership - using influence, not authority, to lead change. Change is ineffective long term if imposed on people.
Clinical leadership
Better-performing hospitals are consistently found to have a board which promotes clinical leadership. In most cases, robust clinical leadership naturally leads to strong clinical engagement.
But real clinical leadership is not found on an A4 organisational chart highlighting the structure of clinical directorates with published names and job titles. Furthermore, engagement does not mean asking clinicians their opinion on a number of predetermined decisions. It means genuinely involving them in the process, operational delivery and strategy of the trust by ensuring they share its values and vision, have responsibility and accountability, take ownership and are enthusiastic.
At The King's Fund annual conference last year, NHS medical director Sir Bruce Keogh highlighted that good clinical services could not be found without good clinical leadership. "You never find a good one without good clinical leadership," he said, "and you won't find a bad service that has good clinical leadership."
Defining roles
In many organisations, clinical leadership roles are poorly defined. This often starts at the top, with the medical director. Much has been written about this role - what it is, what it should be and how it has evolved. One size will not fit all - role description and post holder vary - but the role and person are key to the success of clinical leadership in the wider organisation.
And what do roles such as associate medical director, clinical director, service director, and clinical lead actually mean? They should have job descriptions but, nonetheless, there are likely to be many in post who will not fully understand their role. In some cases the reason is simply that they have not been told. Extra care is required to pass on this knowledge, as we all know a job description is often a skeleton description. What is obvious to the manager who wrote it is not necessarily obvious to a doctor who may have no prior managerial experience.
It is unfair to ask people to take on roles they do not understand and expect them to be successful. Job descriptions or roles without accountability add little if no value. How do people know what they are being held to account for or why? It is no wonder that clinical leadership and engagement is weak in so many organisations.
Service-line management
Organisations within NHS England that have devolved management structures tend to have adopted service-line management or at least some of its principles. One of the key elements of SLM is distributed leadership to clinicians at a local level. Organisations working within an SLM-type structure are enabling clinical leadership by delegating responsibility and accountability and putting clinicians at the helm. This means that tough decisions are being made in the right place, by people who understand the potential clinical implications.
Employee engagement
There is also evidence from many organisations - McKinsey, Aston University, the DH, and the NHS Institute - that the health service succeeds in delivering consistently good care where leaders invest and believe in staff engagement.
In our recent publication, Delivering Sustainable Cost Improvement Programmes, written in partnership with the Audit Commission, the successful organisations we spoke to cited the importance of a strong, stable board and senior management team, underpinned by a strong governance and accountability structure, a defined clinical leadership structure, and effective communication flows.
We are moving towards more clinically driven service delivery and management, but progress is relatively slow and there are opportunities for improvement.
Some organisations have truly devolved structures, with clinicians genuinely leading services and being accountable for service delivery. But many lag behind, while others have not passed the start line. Being notionally in the driving seat isn't sufficient - clinicians need to be allowed to actually drive. They need support, they need their time protected, and the authority to rise to the challenge. Above all, the board and senior managers must enable this.
However large a strategy, your vision will not be realised if the wider organisation does not share your mind set and commitment. To sustain change, organisations need the right talent and the right culture. Hospitals must have stronger clinical leadership to be fit for the future and boards need to support the adoption of a distributed leadership style.
Such a change will be difficult and feel uncomfortable, particularly in the current financial climate. It is not a quick win and there is no magic bullet. But the benefits to staff and patients are immense. If you can build effective teams and generate a positive culture - starting with board members asking themselves some challenging questions and being prepared to change - the quality of services can only improve.
Kate Hall is a policy adviser at Monitor.