East of England Ambulance Service "does not have capacity" to meet response time targets, chief executive admits
Coroner warns of patients waiting up to four hours for a vehicle response
Inquest heard Brian Mills waited more than two hours for emergency responder
The chief executive of East of England Ambulance Service Trust has admitted the organisation "does not have the capacity" to reach patients within national response time targets.
Robert Morton was responding to a coroner, who warned lives were being put at risk by long ambulance waiting times.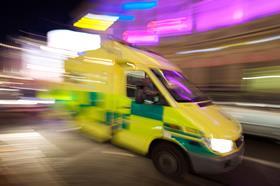 The coroner's investigation found up to 45 incidents in one day of people waiting hours for an emergency response.
Geoffrey Sullivan, the senior coroner for Hertfordshire, told the trust it must take action to prevent deaths as a result of long waits – including some of up to four hours – for emergency responses.
His criticism of the trust followed the inquest into the death of Brian Mills, aged 88, who fell down the stairs at home in Hertfordshire in January 2016 and suffered multiple injuries.
A 999 call was made at 11.16am but a rapid response vehicle did not arrive until 1.23pm. An ambulance arrived 25 minutes later and he was taken to Lister Hospital in Stevenage. He was deemed unsuitable for surgery and died in April. The ambulance delay did not cause his death.
But as part of his investigation the coroner uncovered a number of long waits for emergency response around the same time Mr Mills was waiting for an ambulance.
A report sent to the trust said: "On that day, the East of England Ambulance Service log revealed that Bedford emergency operation centre had a number of calls unassigned prior to and during the time the call for Mr Mills had been received."
There were eight outstanding emergency calls at 10.44am, with the longest waiting time of one hour and 52 minutes.
At 10.48am there were 13 outstanding emergency calls, with the longest wait of three hours and seven minutes.
At 12.47pm, the coroner said, there were 24 patients waiting and the longest wait at three hours and 53 minutes.
In his letter, sent in November and shared with HSJ by the trust, Mr Sullivan said: "I heard evidence that this was not an unusual amount of outstanding calls or an unusual level of waiting time. This was the position on 26 January 2016 and I heard evidence that it is still the position now.
"In my opinion there is a risk future deaths will occur unless action is taken."
His letter highlighted "consistently high levels of outstanding emergency calls and waiting times that far exceed the service's own target response times are likely to put lives at risk".
Responding to the coroner in January, Mr Morton said the trust was negotiating with regulators and commissioners to secure extra funding. "We continue to recruit hundreds of patient facing staff within the financial envelope provided, which in the environment of increasing activity is the only sustainable solution to delayed responses to patients," he said.
He added: "These are not response times we would want or expect but are part of increasing pressure on our system."
"All ambulance services were seeing year on year rises in demand", Mr Morton said, and during winter "activity has been 31 per cent higher than the previous four weeks and in one 24 hour period we received more than 4,000 calls".
He said the number of delays in handing patients over at hospitals had increased, with 60 ambulances waiting outside hospitals at one stage.
The trust chief said response times to "red 1" category calls, requiring an eight minute response, was on an upward trend.
Source
Information provided to HSJ