Fourteen deaths probed but none "direct consequence" of delays review says
Fifteen of 22 cases involved patients "harmed" because of delays
Families have instructed legal representatives
Trust top medic apologises to families for "unacceptable delays"
Nobody died as "a direct consequence" of significant ambulance delays across the East of England, an external review has concluded.
The review, launched in the wake of whistleblower allegations of deaths and serious harm caused by delays in the region over the festive period, found 15 cases in which patients were "harmed as a direct consequence of ambulance delays".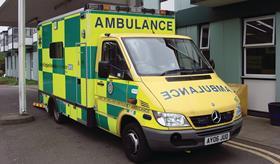 But it concluded that not one of the 14 cases which resulted in fatalities – which included an 81 year old woman from Clacton who waited nearly four hours for an ambulance after calling 999 with chest pains – was a direct result of the hold-ups.
The review team led by senior emergency medical consultant David Kirby, which also included figures from regulators and local commissioners, investigated 22 serious incidents escalated by the East of England Ambulance Service Trust out of 138 "significant delays" during a chaotic period 17 December last year to 16 January.
The review team concluded that there had been three cases of severe harm; four cases of moderate harm; and eight cases of low harm caused by ambulance delays. The trust said it could not disclose further details due to patient confidentiality.
The trust said it was now engaging with patients and families involved. Acting medical director Tom Davis told HSJ that some families had "involved legal representatives".
Dr Davis said: "My first point is to sincerely apologise to the patients and families affected by delays…Three cases of severe harm is three too many. I am not sitting here thinking this is acceptable. The delays have led to harm and that is unacceptable."
The serious harm review followed a senior whistleblower alleging at least 40 patients died or were caused harm because of long ambulance delays, as exclusively revealed by HSJ in January.
The trust is awaiting the conclusions of a Care Quality Commission inspection which took place in March while local MPs told health minister Steve Barclay they have "no faith" in the trust's leadership.
Dr Davis said the detailed list shared with HSJ of delayed cases – 19 of which resulted in deaths – was a "very early iteration" of a list of concerns raised to the trust's patient safety team.
The trust said it was unable to confirm to HSJ which of the 19 deaths on the list were included in the 22 serious incidents escalated to the external review team because of concerns about patient confidentiality.
Dr Davis did however confirm that the Clacton case was one of the 22 serious incidents investigated by the review.
He added: "I can't give details on what it was graded in the harm analysis, or speak about it without being able to give the opportunity first to the family [to speak publicly about it].
"As a clinician and a doctor it's very difficult to explain a national reporting framework and system against lives that have been lost. Some of those [lives] would have been lost because the patient was going to die anyway.
"Some of them will have potentially affected by the delay, but the harm analysis concluded no deaths were of a direct consequence of the delay of an ambulance."
He said the trust understood that coroners had looked at some of the 22 cases but only one was subject to an inquest, and this was not related to the delay.
"Our understanding is that [the one outstanding case] has not been progressed to an inquest because they think the delay is a causative factor, but because the cause of death is unclear from the information which they have available," he said.
The review team led by Mr Kirby, a emergency medicine consultant at Luton and Dunstable Hospital Foundation Trust, also comprised of NHS Improvement head of quality April Brown, as well as representatives from the CQC and local commissioners.
The group is understood to have only met once all together in person, but convened conference calls to discuss calls.
Trust chief Robert Morton said in a statement: "Firstly, on behalf of the trust, I would like to apologise to every family involved.
"We welcome the review and we will learn from each and every case. It was right and proper for this to be raised in the House of Commons, and we thank NHS England for their strong leadership in this matter. By working as a system, we can make changes to reduce the likelihood of this happening again in the same way."