End Game always has it's ear to the ground for saucy gossip, plus an update on the fortunes of Andrew Lansley and his successor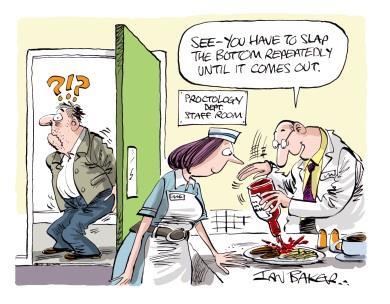 We have the greatest respect for the Chatham House rule and so are barred from identifying anyone who was anywhere near the following conversation that took place at the HSJ Commissioning Summit earlier this month.
During a presentation about branding – it has a lot in common with leadership, we learned – delegates were asked to consider [censored] brand of tomato ketchup, which represents a triumph of everyday recognisability, respectability and quality. "It's every man's ketchup," said [censored] of [censored organisation]. "It can go anywhere."
He was more right than he realised. When the room was asked to consider how [censored] ketchup made us feel, [censored] – a GP leader of [censored] Clinical Commissioning Group - revealed the brand had strong associations for him. "It's the bottle," he explained. "Last time I saw one I had to remove it from a patient's [censored]."
Table for one
There is one thing that denotes how powerful you are in the health service more than anything else. It is, of course, not job title, salary or honours, but where you sit in important meetings. And there is no more important meeting than the weekly Monday get together in Department of Health HQ to discuss NHS performance.
Instituted last year by Jeremy Hunt, these meetings constitute the NHS's command centre with all the system's major players including the chief executives of Monitor, the NHS Trust Development Authority and NHS England, along with David Cameron's adviser Nick Seddon.
'Simon Stevens was foremost among the princes, but no longer at the side of the monarch'
The meetings take place at an oval table. In the middle on one side sits the health secretary surrounded by senior civil servants and advisers. Facing him are the assembled big wigs of the arm's length bodies. Various apparatchiks congregate around the periphery. Once all are seated Mr Hunt is brought a cup of coffee while the rest of NHS's power brokers are left uncaffeinated.
That was until one week not too long ago, when into this carefully calibrated manifestation of relative power strode new(ish) NHS England chief executive Simon Stevens – who sat down next to the health secretary!
Audible gasps were heard and then the fearless Mr Stevens made it known that he would like a cup of coffee, too. The muffled screams of outrage were still audible as various junior members of staff who had fainted from the shock were gently pushed out of sight under the table. Something clearly had to be done to put this usurper in his place – a note was sent.
The next meeting saw Mr Stevens sat firmly in the seat directly opposite Mr Hunt – flanked by Monitor's David Bennett and the TDA's David Flory. He was foremost among the princes, but no longer at the side of the monarch.
Once more, Mr Hunt drinks alone.
Medicine without borders
The better care fund planning process has been a slog for all, but particular pity should be reserved for officials in County Durham and Darlington.
'An NHS endorsed "ISIS recruitment drive" for staff might not go down too well'
Development of the integrated care scheme in the area appeared to be going well during 2013 and early 2014. The pieces were falling into place for their "integrated short term intervention service" or ISIS.
It was only in June, as another fund submission deadline passed and the Islamic State in Iraq and the Levant burst on to the international scene, that their chosen title of ISIS no longer looked so smart.
While both bodies could be defined by their scant regard for arbitrary borders, an NHS endorsed "ISIS recruitment drive" for staff might not go down too well. Suddenly the old title of "responsive integrated assessment care team" (RIACT) doesn't seem so bad.
SOS for Lansley
Nobody likes to see a man down on his luck and as such End Game's sympathies go out to former health secretary Andrew Lansley.
He lost his subsequent Cabinet post – as leader of the Commons – in the July reshuffle amid speculation he could be made an EU commissioner and a claim that some unspecified "role in international public service" was on its way.
There has since been a rumour he could become UN undersecretary general for humanitarian affairs, but some weeks on nothing has materialised except for a mocked up image of Mr Lansley taking his desperation to the streets (below).
To think only a few years ago it was he who was being harangued by placard wielding opponents to the Health Bill as he passed through Westminster. Such a sad and sorry tale.