Health secretary Jeremy Hunt's 'A&E facts' fail to take off, and a crack team of transformers imagineers a better future for West Suffolk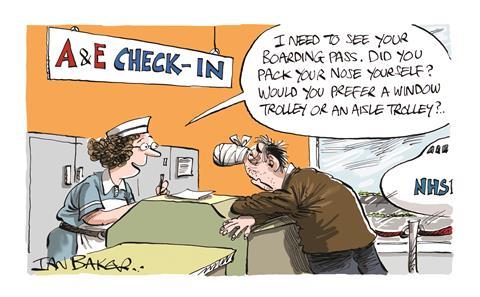 When England's hospitals had their "I am Spartacus" moment early last week, declaring "major incidents" en masse in relation to accident and emergency pressures, Jeremy Hunt took to Twitter to disseminate "a few A&E facts".
"Last year there were an [sic] 1.3m visits to A&E compared to 2010," the infographic posted by the health secretary said. "That's eight jumbo jets full of people every day."
There were also a couple of helpful pictures of airplanes.
Even ignoring the grammatical error in the first sentence, we can't help thinking Mr Hunt is barking up the wrong tree with plane based comparisons.
Does anyone actually know off the top of their head how many people a jumbo carries?
As one wag observed: "Cargo 747s would only have three or four people on them, of course."
West Suffolk special ops
End Game always enjoys getting emails from the strategic projects team. It's nice to get a heads up about the next part of the NHS that is going to be "transformationalised" by this "market leading, national provider of strategic change" (their words, naturally).
The team is, of course, the ninja operation behind the beleaguered East of England pathology procurement exercise, the Hinchingbrooke fiasco, the George Eliot debacle and the friends and family test.
'Why so coy, strategic projects team?'
So we were excited when its latest message informed us about a new item on its agenda: West Suffolk Foundation Trust.
The team enthusiastically informed us: "Commissioned by the newly appointed chief executive and his board, we will be working on behalf of the hospital in developing opportunities for the future."
Fantastic. And who is the unnamed visionary who has boldly sought out the services of this band of innovation renegades? Oh, stuff it, we don't have the energy to be sarcastic about this any more. West Suffolk's new chief executive is Stephen Dunn, who was until fairly recently one of the team's top "imagineers". None of that is exactly a secret, so why so coy, strategic projects team?
Credit where due
Anyone working in public relations in the senior reaches of a grand public body might understandably get the jitters while listening to media appearances given by their staff.
Will they stay on message or will they make a boo-boo in front of an audience?
This must surely have been the thought running through NHS England head of media Roger Davidson's mind while watching Keith Willett, its director for acute episodes of care, explaining the latest on the country's A&E difficulties.
But there was no need to worry. In fact, Mr Davidson was so relieved that the professor gave a good account of himself that he tweeted: "Has anyone else noticed that NHS England's Prof Keith Willett (our top urgent care doc) is brilliant?"
Lookey likey
We were puzzled and amused to see that versatile comic actor Kevin Eldon had been given a gong in the New Year Honours list, especially as he was apparently being recognised for his contributions to primary care.
We had no idea he was such a renaissance man.
However, upon closer scrutiny we realised that the recipient was in fact super GP and Tower Hamlets CCG chair Sam Everington. Congratulations Sir Sam.