Tough times call for tough measures, even while sipping a beverage at this night of all nights…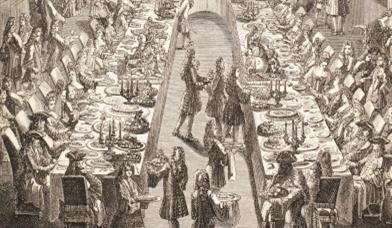 This month heralded the NHS Confederation conference - the annual opportunity for the great and the good of the health world to come together, rub shoulders and earnestly debate the future of the NHS.
As any Confed veteran knows, the only place to be seen on the first night is the HSJ drinks reception.
'HSJ's editor had to lay down some strict new "guidelines"'
Unfortunately, in these financially straitened times, HSJ editor Alastair McLellan had to lay down some strict new "guidelines" to ensure we all played our part in meeting the challenges faced by the NHS.
Here is a copy of the ground rules:
Agency staff and management consultants: drinks capped at one glass.
Executives from trusts in deficit: all wine and beer to be watered down to 50 per cent strength.
Commissioners from large northern cities to drink only from the communal "devo Manc" punch bowl (guests encouraged to hurry).
GPs required to group together to place drinks orders (please be aware the larger the group, the more likely you are to be served).
Those from small hospitals must find a chief executive "buddy" from a large trust who will tell them what and how much they will be drinking.
Those earning more than the "Downing Street benchmark" of £142,500 to be directed to the champagne bar and invited to pay for their own drinks (remember to smile for the press).
Shelford Group guests can find their exclusive drinking area at the back of the bar. Top-ups provided on request, but guests are asked not to crow about it.
Anyone else from a trust which refused the revised tariff must drink no more than they did last year.
All representatives from challenged healthcare economies subject to HSJ's own "success regime" (sharing half a pint of weak lager while listening to a lecture on improvement by an obliging regulator).
Parity of esteem for all our guests from the mental health sector.
Commissioning support unit guests must drink exactly what Bob Ricketts tells them to.
Anyone from a vanguard site is expected to have preloaded and play a key role in reducing the drinks bill.
Finally, messiahs are usually associated with miraculous transformations. NHS England employees will be pleased to know that Simon Stevens, in the name of public health, has reformulated their wine into water.
Don't forget
Jeremy Hunt, fresh from a Conservative election victory that was undoubtedly down to him, gave a largely assured performance in his speech to the NHS Confederation conference.
The health secretary spoke without notes - and was even brazen enough to joke about Ed Miliband famously "forgetting to mention the deficit" when the former Labour leader spoke "sans notes" at his party conference last autumn.
'Hunt knew a startling amount of detail about the variant prices hospitals paid for toilet paper'
This seemed to backfire when Mr Hunt omitted to make the announcements planned for him. He was light on detail about the ditching of two elective waiting time targets, and didn't at all mention the Care Quality Commission's new role in measuring efficiency.
The health secretary did remember a startling amount of detail about the variant prices hospitals paid for toilet paper.
He felt compelled to assure delegates that this was not done on a "mad bet with Tim Kelsey - if you bring up toilet rolls in your Confed speech, I'll buy you a pint". End Game was not surprised. We're pretty sure Mr Kelsey is a red wine man.
Awkward 'interim'
The NHS Confederation conference is, among many other things, an opportunity to learn.
One of the things NHS England's vanguardista in chief Samantha Jones learned was that she was going to have to look for a new job sharpish.
Receiving her conference pass, Ms Jones noticed to her undoubted disappointment that she was only listed as the "interim" director of new models of care - she, like us, had been under the impression that her appointment to the role earlier this year had been a permanent one.
"Well… that's one way of telling me," she tweeted.
Although we're fairly sure it was an error, if we were in her position we'd be keen to get on the right side of whoever it was at NHS England who booked her place at Confed, just to be on the safe side.
Poker face
Every time Simon Stevens mentions the name of the NHS England's new scheme for troubled health economies - the "success regime" - End Game is astounded the chief exec can use such a blatant, knowing euphemism with a straight face.
Sarah Wollaston, the favourite to chair the Commons health committee, described it in Parliament earlier this month as a "classic example of NHS newspeak" - the fictional language in George Orwell's 1984 used to subvert the real meaning of words.
'The "sucess regime" is a "classic example of NHS newspeak"'
But we've come to realise that both Dr Wollaston's and our own cynicism is entirely without foundation. We saw the light when we received a press release from West Essex Clinical Commissioning Group informing us that it was "leading the way" because Essex was one of the first areas put in the regime, which would "help create the conditions for success".
Well, that sounds pretty good: get out the bunting and break open the champagne, everyone.