One London trust clearly has stars in its eyes as senior posts are appointed with a licence to thrill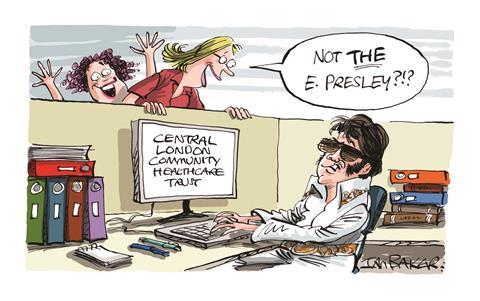 End Game rifles through reams of board papers each week, so we'll take amusement wherever we can find it.
Central London Community Healthcare Trust did its bit to keep our spirits up by appointing senior staff with the same names as famous people, real and fictional.
The papers refer to a "J Bond", "L Ashley" and "C Cole".
It seems CLCH is a living embodiment of a question asked by only the most innovative fan fiction writer: what would happen if Britain's top spy, our favourite mumsy lifestyle retailer and the nation's pop sweetheart came together to run community services?
High but not dry
While End Game was overjoyed to visit High Wycombe recently, the real highlight came at the end of our sojourn while awaiting the train home. For it was on platform three that we spied an advert for a local watering hole: The Earl Howe.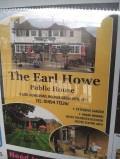 We were moved by the deference of the people of Buckinghamshire towards their local health minister, who, like the last 14 generations of his family, lived nearby at the humble Penn House Estate.
While The Jeremy Hunt might not have the same ring, we are sure his Farnham constituents will have honoured their local health minister in a similar way.
We regret that we never got to sip a sherry at The Anna Soubry in Broxtowe, but resolve to hotfoot it to rural Suffolk to get smashed like a medical student in The Dr Dan Poulter.
Insider dealing punches
The NHS Confederation can be a politically sensitive bunch; it knows the best way to retain influence is to keep all channels open and avoid angry, alienating rhetoric. But its members also work in the NHS and must deal daily with the consequences of Whitehall meddling.
So when we saw, in the Confed's house journal The Insider, the better care fund being referred to as the "bloody Cameron fiasco", we were surprised, but not shocked.
Amber gambler
Sandwell and West Birmingham Hospitals Trust has launched a public health push, with healthy eating front and centre of a new campaign.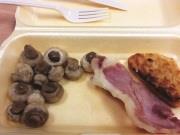 The trust has introduced traffic light food labelling and changes to food pricing and content to encourage staff and patients to make healthy choices.
The campaign, launched using the Twitter hashtag #SWBHchoosegreen, is genuinely commendable.
However, End Game will leave readers to decide whether chief executive Toby Lewis could have used a slightly more appetising photo (below) on Twitter to publicise the new regime and the trust's fare.
Mr Lewis' mushrooms, bacon rasher and hash brown apparently represent one green and two ambers under the new traffic light system. But as one tweeter observed, if bacon is amber, then what warrants a red rating? Are deep fried Mars bars on the menu at Sandwell and West Birmingham?
Stevens in the hood
End Game recently came across an unexpected sight: Simon Stevens dressed down in jeans and a hoody.
The NHS England chief executive was invited to speak at an event for young carers in London and dutifully stuck to the "no suits" dress code. Good for him.
The experience was rather disconcerting. It was a bit like being back at school and seeing your teacher in their casual gear for the first time.
We weren't the only ones to be surprised by the relaxed new look. At NHS England's board meeting, Mr Stevens said colleagues had remarked that in civvies he "almost looked normal".