Marcus Chown may have almost fallen off his chair over Labour's voting policy, but the audience of Simon Stevens' expo speech weren't at risk of such a fate - it was standing room only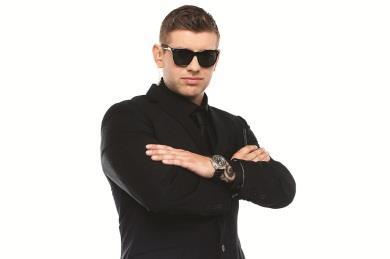 End Game nearly fell off our chair when we saw the news that left wing Twitter tribune Marcus Chown had been denied a vote in the Labour leadership election.
Mr Chown was barred because the party's electoral gatekeepers said they had reason to believe he "did not support the aims and values of the Labour Party".
"I am in shock. I have voted Labour in every election, including the last one," a clearly shaken Mr Chown tweeted.
End Game shares his outrage. What is the world coming to when a man who stood for election for a rival political party in the 2014 European election, and whose name is listed on the executive committee page of said rival party, doesn't get to vote for the Labour leader?
'The NHA might save a few more deposits if candidates and members stop voting for other parties'
Mr Chown rebuffed claims that his association with the National Health Action Party should bar him from having a vote.
"I also support the aims of the NHA Party - which is not party of power - because I want a publicly funded, publicly delivered NHS," he said. Not a party of power? We wonder if Mr Chown ran that one past NHA co-leader Clive Peedell, who has in the past accused HSJ of not treating the party with sufficient seriousness (despite numerous mentions on this venerable page).
Mr Chown's admission that he voted Labour in the general election this May is surely also a tad troubling for the NHA.
A word of advice to our NHA friends: you might save a few more deposits if your candidates and members stop voting for other parties.
In the conference zone
When End Game thinks about conferences nowadays, it conjures up images of bored looking people manning stalls in vast, echoey halls giving out branded coffee cups and bland leaflets. Some of the more adventurous health gatherings these days are marked up into "zones" to make the punters feel like they've landed in a dazzling - albeit very orderly - theme park.
The Department of Health has conjured up a crafty new plan to make its latest set of policy based events look more enticing to health management rank and file with a snappy rebrand. A month ago it unveiled UKHealthCamp (no spaces), a set of "unconference" events for those who are interested in the use of technology in health provision. The idea is that event participants design the sessions themselves. Obviously End Game is saying nothing but it seems like a great way to save money on organiser fees.
Packed are lunches advisable.
Standing room only
Many of those present at the NHS Health and Care Innovation Expo were surprised at the relatively small space used at the Manchester venue to accommodate the audience listening to Simon Stevens' big speech.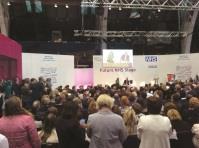 Did the organiser not think the NHS England chief executive would pull in a big crowd?
This left a few attendees scratching their heads. One delegate wondered if Mr Stevens' much publicised drive to improve public health and the health and wellbeing of NHS staff had gone a touch too far, by allowing his audience to feel the much hyped benefits of standing while working.
Tara Donnelly, managing director of the Health Innovation Network, tweeted from the room: "Was Simon speaking in such a small room on healthy NHS staff just a cunning ruse to keep us standing up?"
Bi-coastal
You can take the man out of America but you can't get him to stop using mid-Atlantic verbal tics in his policy speeches.
Almost a year and a half after taking up the big chair at NHS England Mr Stevens still peppers his public pronouncements with down-home aw-shucksery. Addressing the assembled crowd at the expo, Mr Stevens said: "We've got to be careful to give vanguards the space to chart the integration that we need. Given the right support these are the folks who will be creating the future."
"Folks?" Pass the black-eyed peas, Simon.
This "wrinkle" is presumably a "holdover" from when Saint Simon lived in the US, possibly in a little house on a prairie, while working for United Health.
Either that or he is just a really big fan of Ronald Reagan films. End Game demands to know which it is.