An amusing election debate in a library reveals disparities within political parties, while magnets have the power to heal menopause symptoms
We start at the British Library, which last week hosted a health policy battle royale between the Conservatives, Labour, the Liberal Democrats and UKIP, compered by the BBC's Sarah Montague.
Unexpectedly, the election debate proved amusing from the word go. Seconds after shadow health secretary Andy Burnham finished delivering an impassioned opening pitch, Ms Montague invited health secretary and latecomer Jeremy Hunt to take his place on the stage with the devastating line: "I don't think you missed anything."
She was suitably red faced at the roar of laughter that followed from the audience.
UKIP's Julia Reid later confirmed her party's rebellious, anti-establishment stance by promising: "UKIP are the only party that's committed not to vote for UKIP in
the European Parliament, or here."
'UKIP's contrarian streak extends to actively voting against the party's own policies'
End Game knows UKIP are a defiant, unruly bunch, but we had no idea this contrarian streak extended to actively voting against the party's own policies.
However, it appears Dr Reid misspoke - "I said the wrong thing, didn't I?" She clarified that she meant the "TTIP" (Transatlantic Trade and Investment Partnership) deal between the EU and US.
The prize for the most ill advised joke, though, went to the usually adroit Mr Hunt, who attributed his tardiness to the London traffic.
"Apologies for being late, I think we had a toxic top down reorganisation of London traffic that nobody voted for and nobody wanted," he riffed.
It did get a laugh, but also a sharp intake of breath. A bit like seeing a beloved family dog get run over, only for the motorist to pull over, climb out of the car and quip:"Why did Fido cross the road?"
A Righteous Uprising
Over to the Association of Directors of Adult Social Services' spring conference, where the event's Twitter hashtag #adassspring brought about a righteous uprising of senior social services professionals.
Unsurprisingly, the integration of health and social care was a dominant theme, with much talk of the latest attempts by NHS England and others to make this holy grail a reality.
'We're only trying to get someone up in the morning, not cross the Northwest Passage'
It was left to Tina Coldham, chair of the Social Care Institute for Excellence's co-production network, to provide some much needed perspective. "Vanguards? Pioneers?" she scoffed.
"We're only trying to get someone up in the morning, not cross the Northwest Passage." Quite.
A tale of missed breakfast
Next up, a cautionary tale for any busy executives who choose not to make time for the most important meal of the day.
Our story concerns Helen Bevan, chief of service transformation at NHS Improving Quality, but perhaps better known as the health service's acknowledged doyenne of blue sky thinking.
Last week she found herself with no time to eat breakfast ahead of the International Forum on Quality and Safety in Healthcare.
The situation did not appear to be an obstacle for an accomplished disruptive innovator such as Ms Bevan, who simply wrapped some sausages in a napkin and proceeded to the conference.
'A sniffer dog got to them before her'
The flaw in her plan was soon revealed, however, when Ms Bevan arrived at the Excel Centre in east London.
At this point, she later explained on Twitter that a sniffer dog located the meaty morsels on her person and "got to them before me".
If any other readers have been busted trying to sneak sausages into an international health conference, please let End Game know.
Magnetic Power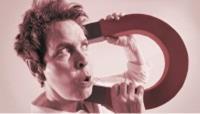 Magnets do many vital things, chief among them is helping to keep notes on fridges. But End Game was astonished to discover that they are apparently also a potent force for fending off symptoms of menopause.
At least, according to Sheila Wenbourne, they are. The Essex based businesswoman started selling magnetic strips after seeing the wonderful healing power they
had on her "severely arthritic dog".
'The ancient Chinese and Egyptians have used their powers since the dawn of time'
"Magnets are one of nature's natural forces and the ancient Chinese and the Egyptians have used their wellbeing powers since the dawn of time," Ms Wenbourne explained.
If it is good enough for the ancient Chinese and Egyptians, it is good enough for the National Institute for Health and Care Excellence, in End Game's view.