Lightning strikes, service assessments, censoring the public and slowing down a high speed train. All in a week's work for End Game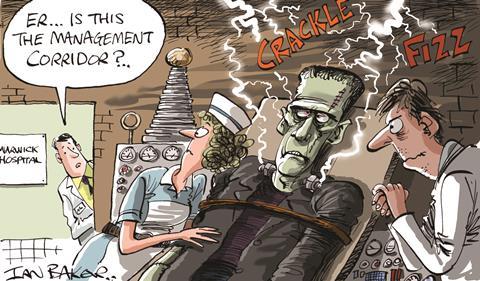 Managers take trust by storm
If you've been caught out in a downpour recently it will not have escaped your attention that we've had some dark and stormy weather over the past few weeks. NHS services appear to have been mercifully unaffected – or so a board report from South Warwickshire Foundation Trust assures us.
Apparently Warwick Hospital was struck by lightning in July. Thankfully, as the report observes with unintentional hilarity, "there was no significant impact to patient care as the location most directly affected was the management corridor".
We can picture the doctors and nurses of Warwick Hospital serenely going about their work in blissful ignorance of the burnt out wing, stuffed with their comically frazzled managerial colleagues.
Objection!
One of the more worthwhile press releases dropping into our inbox during this summer lull carried the news that North Staffordshire Clinical Commissioning Group was to "set up the area's first ever citizens' jury to examine and report on local health services" and specifically to look at diabetes services.
It seems a sensible project – and we are pleased to learn that the jury is "not going to be finding anyone guilty". But it does provoke the question of whether such a jury should have been applied to the decision by North Staffordshire, which surfaced earlier this summer, to end NHS access to hearing aids for people with mild or moderate hearing loss as a cost saving measure. The proposal is currently subject to a boring conventional consultation but has so far been pilloried by locals and the leading national charity Action on Hearing Loss.
Words fail us
One GP practice's heavy handed attempt to clamp down on online criticism has unwittingly gone viral. St Lawrence Medical Practice in Braintree, Essex, put a sign up instructing patients not to use Facebook or Twitter to post any concerns about the surgery.
'One crafty individual managed to circumvent the rules by taking a photo of the sign'
"Any comments we see on social media sites may be seen as a breach of our zero tolerance policy," it read.
One crafty individual managed to circumvent the rules by taking a photo of the sign itself, which has since appeared across national media and, bizarrely, on news websites from as far afield as Finland and Russia.
"How to ensure people will complain about you on social media: tell them they are not allowed to complain about you on social media," observed one online commenter.
Practice manager Alison Rudkin has admitted the notice "wasn't worded well originally". She told the BBC that it had since been amended.
Slam on the brakes
Several concerns have been raised about the planned HS2 railway, from the potential environmental destruction and loss of farmland to the demolition of homes and historic buildings, to whether the service can be delivered on time and to budget.
Now the Royal College of GPs has leapt on the (speedy) bandwagon and called on MPs to halt the £50bn scheme – because it might interfere with its exams.
'I am not meaning to belittle their claims but it does seem a bit trivial in the overall scheme of things'
The college's honorary treasurer Helen Stokes-Lampard told The Independent that its Euston headquarters, close to the railway's southern terminus, has "unique examination facilities", which would be ruined by noise from construction of the site. She said: "The proposed works pose serious threats of long term disturbance and disruption to the activities of the RCGP, most importantly the examination for the new GP trainees.
"Were the examinations not able to run due to the disturbance caused by HS2 this would mean that the UK would be deprived of thousands of new GPs each year."
The RCGP has demanded further soundproofing measures but if these prove insufficient to block out the noise, it wants compensation for having to find and adapt another site. There have been some suggestions that the body might possibly be overreacting. "I am not meaning to belittle their claims but it does seem a bit trivial in the overall scheme of things," suggested John Lamb of the Greater Birmingham Chamber of Commerce, which sits at the northern end of HS2.