Start your betting now on which senior figure put the best horsey spin on the NHS Five Year Forward View last week – who was the mane offender?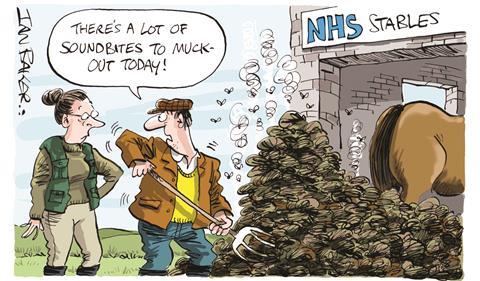 The grand unveiling of the NHS Five Year Forward View last week was accompanied with an unnerving bout of equine madness.
NHS England chief executive Simon Stevens was first over the line, selling his proposed new breeds of provider models as the "horses for courses" approach.
Coming up on the inside was NHS England medical director Sir Bruce Keogh, pledging the plan could be rolled out in a way that "doesn't frighten the horses".
To perplex the equine theme further, Sir Bruce called the horses "a combination of professional fears at one level and patient fears at another".
But in by a nose came a senior government source, warning that the report left Whitehall "a few furlongs off the pace".
Mr Stevens once said: "The 'N' in the National Health Service should stop standing for the 'uniformity of frequently changing administrative arrangements'."
Given the recent horseplay, End Game feels confident to conclude what the "H" stands for.
Stevens kept at a safe distance
Following his combative speech to the Royal College of GPs' annual shindig in Liverpool earlier this month, Mr Stevens appears to have taken extra precautions when addressing a best practice conference last week - by delivering his speech via video link.
While this virtual appearance might seem a means of reducing the risk of physical damage from audience impelled projectiles, End Game favours a different explanation.
Perhaps he was taking the theme of the conference literally. NHS England has been banging on about telehealth benefits as a means of keeping patients out of hospitals for ages.
Brewing an NHS tea strategy
Always on the hunt for new ideas to help the NHS, End Game read one particular news story last week with great interest.
Staff at University Hospitals of Leicester Trust have been banned from drinking hot tea and coffee in front of patients after complaints it made them look like they were slacking off.
An email reportedly circulated to trust staff read: "Members of the public are frustrated by long waiting times during clinics and for appointments, and are inflamed by seeing members of staff enjoying hot and cold drinks at the reception desks."
Perhaps managers could harness this grievance into some sort of efficiency driver, where hot water for drinks is only made available upon meeting time based performance measures. Each trust's success against its "sip plan" could then be measured to boost productivity.
Waiting times target
Evelina London Children's Hospital has asked its consultants to help with fundraising duties. One cash collecting wheeze is a gala dinner before Christmas.
A number of senior doctors, no doubt keen to hob knob with the rich and powerful, have offered to put themselves forward to attend the event. Alas, it turns out the hospital's plan is to get its consultants to wait tables.
Looky likey
End Game was shocked to see former radio DJ Mike Read offering his two cents on NHS accident and emergency admissions on Newsnight last week.
Perplexed by such a choice to appear on the programme, we thought maybe the BBC's attempt to shake up the late night current affairs format had gone a tad too far.
But after a quick rubbing of the eyes we realised it wasn't the calypso singing UKIP supporter but the King's Fund's chief number cruncher John Appleby. Mind you, with both sporting classy designer spectacles and manes of dark hair, one could be forgiven for the confusion.