Naval gazing – a late lesson on how to steer a 45,000 tonne, state of the art monster in the right direction – and free spirits at Cambridgshire and Peterborough FT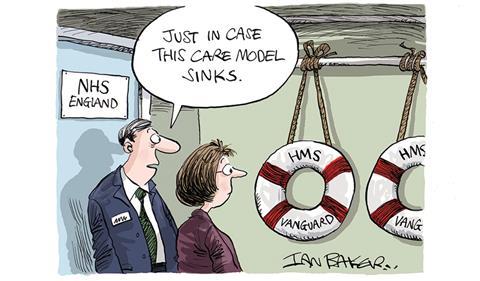 Did we mention how excited we are by the new care models vanguard? Terribly excited, we are.
But while it is an utter joy to witness the future unfolding in slightly faster than real time, we have a cautionary tale for NHS England chief executive Simon Stevens, whose brainchild the vanguard is.
Consider the HMS Vanguard, conceived in 1940 as the biggest, fastest and most spiffing battleship in the Royal Navy. Construction began in 1941, and was given top priority following the Japanese invasion of Malaya late that year.
As any boss of anything knows, not screwing up your flagship project (ho ho) is extremely important, and so it was that work on the Vanguard was started and stopped several times to make sure the design was just right.
When it was completed, the ship was indeed every inch the 45,000-tonne, state of the art monster Britain needed at a critical moment in history.
Sadly, that moment had passed – the Vanguard was not commissioned until a full year after VE Day.
"In one final farce, the Vanguard ran aground as she was being towed out of Portsmouth to be broken up"
She did enjoy ferrying the king around the globe. Although, as there wasn't a world war going on at the time, it is not clear that George VI, fragile though he was, needed quite that level of protection.
The Vanguard was mothballed after less than 10 years of active service, having never fired a shot in anger. She was eventually sold for scrap for about half a million quid (it had cost about 23 times that to build her).
In one final farce, the Vanguard ran aground as she was being towed out of Portsmouth to be broken up.
The ship's motto had been "we lead". We trust Captain Stevens will steer a safer course.
Surgical spirituality
Browsing through Cambridgeshire and Peterborough Foundation Trust's board papers recently, we were shocked to stumble over the mental health trust's "spirituality strategy".
End Game envisioned darkened Victorian drawing rooms, Ouija boards and a liberal dousing of ectoplasm, until a more sensible colleague reminded us that was "spiritualism".
"There was a slightly woolly reference at one point to 'the cosmos'"
In fact, what emerged was a thoughtful and reasonable document about how the trust could support people to have as fulfilling lives as possible, even though there was a slightly woolly reference at one point to "the cosmos".
End Game's prescription: compulsory spirituality strategies for all organisations in the next NHS mandate.
The icing on the cake
A photo was recently brought to our attention, posted online by Alison Lee, chief executive of West Cheshire Clinical Commissioning Group (@alisonflea).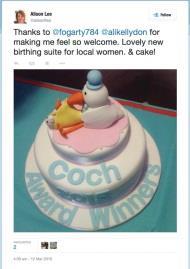 For the avoidance of doubt "COCH" stands for Countess of Chester Hospital.
But that doesn't answer the fundamental question: what the heck is happening on top of the cake?
It was created to mark a new birthing suite at the hospital for local mothers, which is indeed real cause for celebration.
But we must warn the trust that storks in top hats are best kept well away from birthing suites.
They'd flap around, get in the way of the midwives, and frankly freak out the mothers and babies, as well as End Game.
Looky-likey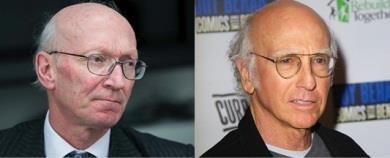 Looking at a photo of Care Quality Commission chair and aggravator in chief David Prior, End Game couldn't help but notice he looked uncannily like the star of US TV comedy Curb Your Enthusiasm, Larry David.
And just like Mr David, the CQC honcho has fine form on saying things that might rub people up the wrong way.
But let's hope Mr Prior finds life at the CQC has amounted to more than a series of excruciating social encounters and a sense of being thwarted in everything he tries to achieve – unlike his doppelganger.