The NHS England chief executive's hotline to the Middle East is revealed, as is ability at the spinning wheel
He's not the Messiah…
The vagaries of technology appeared to give NHS England chief executive Simon Stevens a rude shock as he prepared to address a conference in Liverpool last week.
While Mr Stevens was unable to attend the Foundation Trust Network's annual gathering in person, he appeared before assembled hospital chiefs and policy wonks via video link from Sky News' Millbank Studios near Westminster.
Backed by a fluorescent blue background, a surprised Mr Stevens informed viewers his earpiece was feeding him news about the Middle East.
"I'm getting the news from Jerusalem," announced the health chief, taken aback.
Mr Stevens has been confused with the Messiah by some of his more devoted disciples, so we probably shouldn't be surprised that he has a hotline to the region.
Passage to India
Mr Stevens lightened the mood during a question and answer session when asked to respond to a cryptic comment made earlier in the conference by the man who is technically his political master.
Health secretary Jeremy Hunt had said the government's approach to challenges in the health system should be "a little less Stalin and a little more Gandhi".
A courageous hack, embedded in the auditorium, asked Mr Stevens' what the health secretary could possibly have meant.
"I'll have to ask him next time I see him," came Mr Stevens' wry reply. "I'm spinning myself a loincloth as we speak," he added.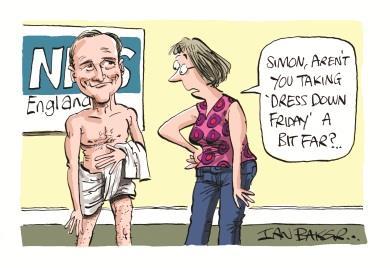 Fighting talk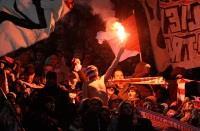 While End Game had a jolly time clapping ourselves silly at the HSJ Awards last week, we were perplexed by a new development in NHS slang that emerged during the festivities.
A source with their finger on the pulse at the megalith known as NHS England let slip it was now commonly referred to as "the firm".
Was this a product of the corporate manner in which NHS England has been run since Mr Stevens' arrival? Surely it's unrelated to how Mafiosi refer to their murderous empires? Or what about its application to groups of marauding football hooligans?
End Game looks forward to finding out which of the three NHS England comes to resemble most as Mr Stevens' reign progresses.
Nice work
While End Game is rarely supportive of top-down diktats from health secretaries, Mr Hunt has persuaded us that sometimes it's the way to ensure common sense prevails.
During his address at the HSJ Awards Mr Hunt sensibly ordered every one of the 1.3 million NHS staff to read HSJ.
Quite right secretary of state, quite right. End Game thinks the decree should be made legally binding just to make sure.
He also thanked the various trusts where he has done his work experience style frontline shifts.
We heartily salute the unnamed "bastards in Harrogate" who put the health service's commander in chief on bedpan duty at the local district general hospital.
Child's play
University Hospitals of Morecambe Bay Foundation Trust has found a novel way of quickly filling gaps in its senior management team – by giving the jobs to children.
The trust has decided to open its doors and bring local school kids in as non-executive directors for the day.
This approach to recruitment is not the result of reading a trendy new management book, but rather part of a national initiative to give children the chance to work like adults for the day.
All highly edifying for those in the NHS, although End Game is concerned about the prospects for the nation's classrooms if children start bringing NHS management behaviour back with them to school.