HSJ is hosting a Twitter chat on 28 February, in association with Marie Curie Cancer Care, to discuss how best to tackle the issues of access and inequality when commissioning end of life care.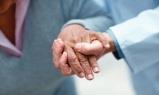 Recently Phil McCarvill, head of policy and public affairs at Marie Curie Cancer Care, wrote about the World Health Organization finding that only one in 10 dying people have access to palliative care.
He explained that while the UK is a world leader in palliative care, there is still significant unmet need here, especially among black, Asian and minority ethnic communities.
"The time to act is now," Phil says. "Health and social care services need to listen to people who experience barriers to accessing care and tear these down."
What are the solutions to breaking down these barriers? How do we reach more people with palliative care need each year and how can commissioners deliver services to meet actual need regardless of disease, ethnicity or any factor other than need?
Phil will be on Twitter on Friday 28 February from 12pm to discuss the importance of tackling access and inquality in end of life care.
Join in using the hashtag #HSJEOLC, as well as follwing @hsjnews and @mariecurieeolc, to ask questions and participate in the discussion.