Targets aim to bring provider sector into surplus next year
Trusts in deficit have had their control totals ratcheted down, while surplus trusts must also improve their position.
Extra funding focused on sustaining services rather than transformation or service enhancements
Financial targets that aim to bring the NHS provider sector into balance in 2017-18 have been issued to every trust in England.
In a guidance document sent by NHS Improvement last week, seen by HSJ, the regulator says trusts have until 24 November to agree their financial "control totals" for the next two years.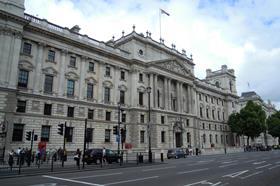 Although the baseline used for each trust was its current year target, trusts in deficit have had their control totals ratcheted down, while surplus trusts must also improve their position.
This is because providers must improve on this year's sector control total by around 25 per cent for it to break even next year. HSJ has seen the individual targets for several trusts, which appear broadly in line with the sector requirement.
Trusts must agree their target in order to receive their share of the £1.8bn "sustainability and transformation fund", for which indicative allocations have also been issued. Conditions attached to the extra funding mean control totals and STF payments require sign off by the Treasury.
Experts say the trust sector ended last year with an underlying deficit of £3.7bn, though one-off measures helped reduce the reported deficit to £2.5bn.
In 2016-17, the overall control total for the sector is a deficit of £580m, after fully accounting for £1.8bn of STF. However, regulators are aiming to reduce this further to £250m and "begin 2017-18 in run-rate balance".
Failing to meet this aim will mean the efficiency saving requirement for the sector will remain higher than the 2 per cent factored into the tariff.
The guidance document says: "The £1.8 billion STF settlement for the trust sector in each of 2017-18 and 2018-19 depends on trusts achieving an aggregate financial position of at least break even in both years after application of the fund.
"To ensure this happens, all trusts must deliver an agreed financial control total in each year…
"Rather than debate the method by which the numbers have been calculated, trust boards should now consider if, with the help of access to the sustainability and transformation fund, their control totals are achievable in 2017-18 and 2018-19."
It says the STF will "again focus on supporting sustainability rather than transformation, aiming not to fund service enhancements but to sustain services".
That means it cannot be used for projects such as reconfiguration, transactions, new care models or private finance initiative buyouts, unless at least pound for pound benefits to the bottom line can be realised in-year.
The STF allocations have been calculated in a similar way to the current year, with £1.5bn for emergency care providers, though the precise methodology appears to have changed slightly.
Meanwhile, the phasing of STF payments will be changed from next year, with extra weighting given to performance at the end of each year.
Richard Murray, director of policy at the King's Fund, said: "I'm struck by the ruthless clarity here that the STF is specifically all about sustainability and not transformation. The Treasury also appear several times in the document, which shows just how tightly the centre is now controlling things."
Sally Gainsbury, senior policy analyst at the Nuffield Trust, said: "Our worry about the financial performance and the STF is that it's effectively being line managed by the Treasury, which means there could be a danger that a very simplistic view will be taken of what needs to be done to cut the deficit."
If the provider sector ends 2016-17 with a deficit of £580m, which is in line with its current financial plans, she said this would require efficiency savings of around 2.9 per cent in order to break even next year.
All trusts given new targets to achieve provider sector surplus
1

Currently reading

All trusts given new targets to achieve provider sector surplus

2

3