The Carter report has illustrated how difficult it will be to extract further savings from the hospital sector, think tanks have warned.
They also emphasised the need for national bodies to set out exactly how the NHS can secure the rest of the £22bn efficiencies it needs by 2020-21.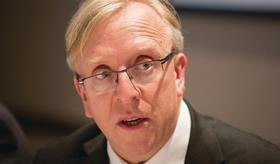 The long awaited report, published today, makes 15 detailed recommendations for the NHS, which the Labour peer says will deliver £5bn of savings from the acute sector by 2020. To date, hospitals have reportedly acknowledged they can deliver £3bn of those.
Leading health think tanks warned that the recommendations were based partly on unreliable data, needed dedicated funding, risked a slide into "knee jerk centralisation", and highlighted how difficult it would be for the NHS to deliver on its overall efficiency challenge.
Health Foundation chief executive Jennifer Dixon said: "They won't be enough to deliver on the £22bn efficiency savings needed by 2020-21. What is now needed is a coherent national plan to deliver on these initiatives.
"For Lord Carter's review to be turned into reality, we need both a supportive working environment to motivate staff and a dedicated resource."
Meanwhile, Nuffield Trust chief executive Nigel Edwards said plans to impose new efficiency benchmarks "top-down" risked "turning into another round of the knee jerk centralisation that has served the NHS badly in recent years".
He added that "some of these goals and standards have had to be based on unreliable data [and] may not be flexible enough to provide safe, appropriate targets for all hospitals".
He said: "The fundamental concern about the headline figures is not that there is £5bn of 'waste' by NHS hospitals, but that we need to find so much more. The savings needed from this sector by the Department of Health will be nearer £10bn. We need a credible picture of where the rest of this is supposed to come from."
King's Fund policy director Richard Murray told HSJ it was a "compliment to the Carter review how much work has gone into this, and that is why it's taken so long" to produce.
But he added: "When you compare that to the pressure on finances that is occurring right now, and the fact that a lot of these savings come in full towards 2020 – this may be the answer to how you improve efficiency in the NHS, but it's not the answer to how you balance budgets over the next two to three years."
Carter savings 'won't be enough', experts warn
1

Currently reading

Carter savings 'won't be enough', experts warn

2

3

4

5

6

7