Plans to cut deficits in the acute trust sector fell further behind in the third quarter of 2011-12 as hospitals struggled to make up lost ground on challenging savings targets.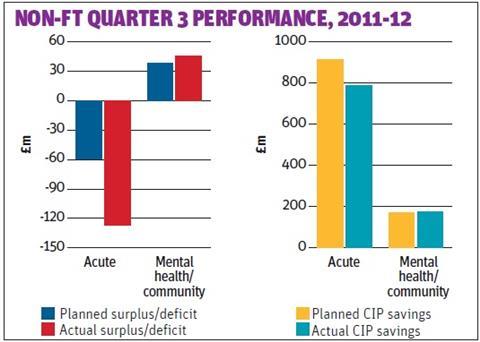 Figures published exclusively on HSJ.co.uk today (view the full figures) show the non-foundation trust acute sector was £127m in the red at 31 December, more than double the £59m deficit it had planned for that point in the year.
The gap between the sector's planned and actual bottom line widened from a deficit 80 per cent above plan at the end of September to 114 per cent above plan three months later.
With just a quarter of the first year of the NHS's £20bn savings drive outstanding, 65 per cent of the 69 non-FT acutes were behind on cost improvement programmes; 16 trusts had made less than half their planned savings for the year, and five had made just a third or less.
Acute trusts with two thirds or more of planned 2011-2012 savings still to make at end of Q3
| | | |
| --- | --- | --- |
| Trust | Year-to-date actual CIPs (£m) | YTD actual CIPs as % of full-year plan |
| Newham University Hospital | 2.07 | 29 |
| East Sussex Healthcare | 8.98 | 30 |
| Barking, Havering and Redbridge University Hospitals | 8.97 | 32 |
| Hinchingbrooke Health Care | 2.19 | 33 |
| Royal United Hospital Bath | 4.38 | 33 |
All but eight had previously forecast they would finish 2011-12 in the black. However, 27 – 39 per cent – were in the red at the end of December.
The figures, obtained from the Department of Health under the Freedom of Information Act, also reveal for the first time the reported performance of all non-FT mental health, community and ambulance trusts against savings targets.
In contrast with the acute sector, the 31 community and mental health trusts that provided usable data were 1 per cent ahead of their savings plans at the end of December. They were forecasting a net surplus for 2011-12 of around £64m, or 17 per cent higher than planned.
King's Fund chief economist John Appleby said the figures for acute trusts did not "bode well" for future years, "because the pace is unrelenting in terms of the targets [trusts] have been set".
Trusts needed to make savings of 5 per cent a year until 2015, he added, and "almost certainly" for two to four years after that.
"It doesn't seem credible," he said, "and it may become increasingly incredible."
Nuffield Trust chief economist Anita Charlesworth added that the deficits now posted by some acute trusts posed the question of whether auditors could continue to rate them as "going concerns". "You wonder how anyone, hand on heart, is going to be able to say that with any credibility," she said.
Healthcare Financial Management Association spokesman Chris Calkin said the £142m shortfall acutes were forecasting in their cost improvement plans would have needed to be covered by "short-term measures" like leaving vacancies unfilled.
But the figures showed that all the "low-hanging fruit" for acutes was gone, he added. "It's becoming increasingly challenging to find real cost improvements. The only way forward is to go for significant transformational change, rather than the traditional areas of cost-cutting."
That meant moving more care into the community, reducing spending on "estate and – in acute terms – workforce, although that workforce could and should transfer to provide services in different settings".
If trusts failed to make the savings needed over coming years, he continued, "it could push the whole NHS into deficit", breaking "our agreement with the Treasury" and giving the service "ongoing challenges for funding in the future".
Barking, Havering and Redbridge University Hospitals Trust finance director David Wragg said his trust delivered £13.4m cost savings in 2011-12: 3.4 per cent of its turnover, against a target of 7 per cent.
The trust finished the year with a deficit of £50m. He said "extreme pressure on the urgent care pathway" had forced it to keep open a number of wards it had planned to close; regulatory action by the Care Quality Commission also required it to increase its workforce.