The Department of Health is to create a new property company to replace the two that currently exist, in response to a recommendation in the forthcoming report by Sir Robert Naylor on the NHS estate.
The DH confirmed the move to HSJ last night. The new company will replace NHS Property Services and Community Health Partnerships. It will be chaired by Ian Ellis, the current chair of NHS Property Services.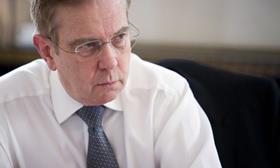 Creating a new NHS property organisation is understood to be one of the recommendations of Sir Robert's forthcoming report on the NHS estate.
HSJ understands staff at NHS Property Services and CHP have already been told about the changes.
A DH spokesman said: "The ability to invest in the highest standards of patient care, delivered in the right buildings and facilities, is a priority for this government.
"The creation of a new NHS property organisation will help to identify unused property to generate funding for reinvestment in the NHS whilst driving down estate running costs and creating opportunities to deliver new homes across the country."
NHS Property Services was set up in 2012 to take over the ownership and management of property previously owned by organisations, such as primary care trusts, which were abolished by Health and Social Care Act reforms. It runs 3,500 properties, including offices, primary care and community health facilities.
CHP was established in 2001 to manage the DH's interests in local improvement finance trust companies. LIFT is a scheme for public-private community property developments.
A merger of NHS Property Services and CHP, which are both wholly owned by the DH, was first proposed three and a half years ago.
In June 2013, HSJ reported that the DH was due to set up a programme of "joint working" between the two firms with a view to a merger in 2015. This was in response to the risk that the two companies would otherwise compete for services to be based in their premises to secure rent income.
In 2013, the companies were asked to collaborate on 10 "quick win" projects in order to demonstrate the value of working together. The projects focused on using LIFT properties more effectively in a particular locality, which could involve moving community or primary care services out of less well maintained NHS Property Services buildings and into a LIFT property.
In October, Simon Stevens told HSJ that NHS England was exploring the possibility of NHS organisations keeping their land sale receipts to invest in new services, rather than surrender them to central government.