NHS England and NHS Improvement "entirely open" to health economies dropping payment by results, says Simon Stevens
Follows planning guidance proposals for whole system control totals
NHS England chief executive says alternative proposals must "stack up in the round"
The NHS England chief executive has said he and NHS Improvement are "entirely open" to health economies dropping payment by results in favour of alternative funding systems for the next two years.
Simon Stevens, speaking about the perverse incentives of the payment by results tariff, said areas may for example choose to move instead to "allocate funding on a programme basis".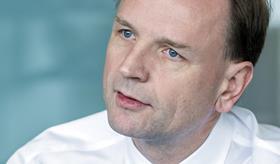 Planning guidance published by the two national bodies last week said groups of organisations will soon receive "whole system" control totals – designed to enable flexibility in financial flows. However, it did not discuss a shift away from payment by results.
Speaking to NHS leaders at the HSJ Commissioning Summit last week, Mr Stevens said: "We are entirely open to the prospect that you choose to abandon [payment by results] as the currency for deciding where the funds should go.
"There's absolutely nothing stopping any health system coming forward and saying, 'We want to move the money around between us in the following ways, which would have the following impacts on what the control totals would look like for individual trusts or [clinical commissioning groups]'."
He added: "It needs to stack up in the round, but if you come forward and say, 'We're not buying emergency clicks of the turnstile anymore, this is the way we're going to allocate funding on a programme basis across our population with the agreement of all the organisations involved', that's absolutely fine with [NHS Improvement chief executive Jim Mackey] and me."
Talking about the future of NHS commissioning and CCGs, Mr Stevens said the health service was seeing "an evolution of the commissioning model".
"There's a set of capabilities that we require in the health service around the planning, funding, the animation of care," he said.
"Where some of those capabilities are embedded can either be in CCGs, it can be in the integrated models that are developing, it can be in some of the bigger primary care scaled groups.
"But at some fundamental level there will still need to be a legal distinction between the accountability that goes with planning and funding on the one hand, and care delivery and animation on the other.
"How that develops will probably evolve in different ways in different parts of the country," he added.
The HSJ Commissioning Summit was held under the Chatham House rule. NHS England agreed following the event for comments to be attributed to Mr Stevens.
Exclusive: NHS free to 'abandon payment by results'
1

Currently reading

Exclusive: NHS free to 'abandon payment by results'

2