The UK's private acute healthcare industry shrank in 2010 for the first time in at least three decades despite continued growth in its NHS-funded business, according to a new report by analysts Laing and Buisson.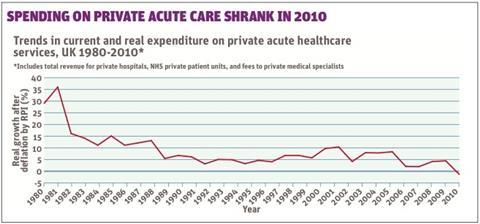 Private healthcare spending declined in 2010
The 2011-12 edition of the Laing's Healthcare Market Review, published tomorrow, estimates £7.2bn was spent on private acute care in 2010 – a real terms fall of 1.5 per cent from the previous year.
According to the report, seen exclusively by HSJ, it is the first contraction of the market for private hospitals, specialists, and NHS private patient units since Laing and Buisson's records began in 1980.
In 2010, the NHS paid private providers £957m to treat NHS patients, up from £867m in 2009: a real terms increase of 5.5 per cent.
The authors explain that the 2008 recession "delivered the largest annual fall in private medical cover on record in 2009" and a further sharp fall the following year. Meanwhile, NHS-funded demand for private hospitals "accelerated", driven by the last Labour government's policy of offering patients a choice of provider (see table).
In 2010, the NHS funded a quarter of all private acute care, up from 10 per cent in 2004.
However, the report notes that growth in NHS spending on private care has "started to flatten".
The share of private hospital activity funded by the NHS "may be closing in on a high point" as NHS demand "has been maturing, and/or scope for increased penetration within the independent sector has narrowed", the report states.
By 2012 the value of independent sector treatment centre contracts with central government will have fallen to a third of its 2010 level, it says.
The report says the amount of NHS work done by the independent sector in the future will be determined by patient choice and how much capacity the private sector dedicates to the NHS.
"The coalition government believes there is significant scope for patient choice to grow well above its current levels," it says.
However, "there may be limitations to the scale of [NHS] activity that many independent sector providers are willing and able to accept".
Private hospitals set up to treat patients at private prices have higher average costs than NHS hospitals. They typically take on patients at the lower NHS prices when they have unused capacity.
"As NHS work becomes a more major business source, it becomes part of average costs and, therefore, many independent hospitals are likely to struggle to maintain profitability at NHS tariff unless they can significantly rationalise their cost base," the authors write.
They note that in 2011, General Healthcare Group's majority owner, South African healthcare firm Netcare, confirmed that a shift from private to NHS patients in its UK business had led to a "significant" decrease in underlying profitability and it was "implementing a major rationalisation process to generate sizeable cost savings".
They add: "Independent hospitals are likely to face increasing pressure to reduce their cost structures, particularly to accommodate increasing numbers of NHS patients, where margins are increasingly challenging as NHS budgets are fiscally tightened."