Data shows 37 per cent increase in value of block contracts for planned care over past three years
Growth in block contracts mainly in public sector providers, London and the South
King's College Hospital, Guys' and St Thomas', and Cambridge University Hospitals among those seeing steepest growth in block contracts
Providers cite data quality and financial stability concerns as principal motives
The past three years have seen a steep rise in the amount of NHS elective care being commissioned under "block contracts", according to data shared exclusively with HSJ.
Figures collected from nearly every clinical commissioning group in England show a 37 per cent increase in the overall value of block contracts held for planned care between 2013-14 and 2015-16. The main driver for this is a sharp rise in the number and value of such contracts held with public sector providers in the current financial year.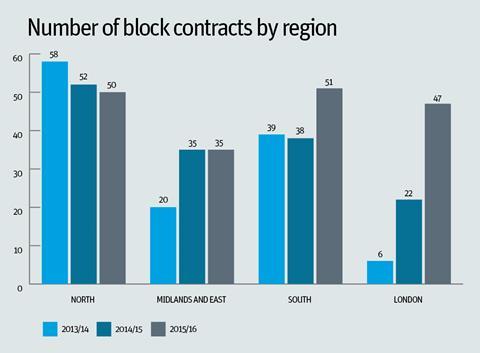 The figures were collected by the NHS Partners Network, which represents private providers of NHS services, using the Freedom of Information Act. Block contracts for planned care are a particular source of concern for the independent sector because elective treatments are generally considered the area of NHS services best suited to patient choice and payment by results.
Under payment by results a provider is paid according to the number of treatments or operations it performs. Under a block contract it is paid a fixed, or partially fixed, overall sum to run one or more services, usually over a year.
Network chief executive David Hare said: "I think the evidence is overwhelming that block contracts are on the rise, in particular the growth into 2015-16. I think that's probably a reflection of the financial position that a lot of trusts and foundation trusts find themselves in, and concerns that CCGs have over provider sustainability, which raises questions for independent sector providers about the extent to which money is truly following the patient."
The network received responses from 189 of 209 CCGs. Ninety-one had held at least one block contract for planned care over the past three years, and 75 gave details on contract values.
The overall value of these contracts rose from £2bn in 2013-14 to £2.8bn this year. This was driven principally by a rise in the value of contracts with NHS providers, which rose from £1.9bn to £2.7bn, with £0.7bn of that growth occurring in 2015-16.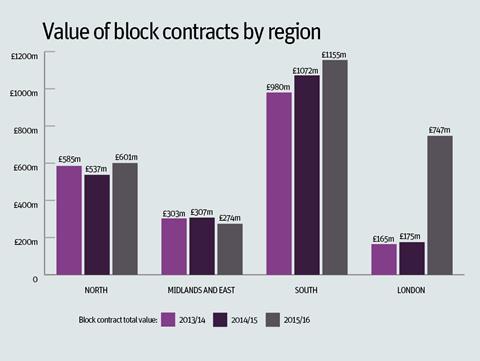 Over the same period, the value of block contracts with independent sector or public/private joint venture providers rose from £71.4m to £83.9m. However, this growth was driven largely by the award of a single joint venture musculoskeletal contract in Sussex. The value of independent sector contracts alone fell from £68.6m to £61.9m.
The public sector growth was driven by an increase in the number and value of block contracts in London and the South. London CCGs reported having only six block contracts in place for planned care in 2013-14. This rose to 47 – roughly the average per region – by 2015-16.
The NHS providers that have seen the largest growth in block contracts for planned care cited concerns about financial stability and data quality as the principal motives.
King's College Hospital Foundation Trust, in south London, saw the biggest cash terms growth in block contracts for planned care in the data, with CCGs reporting £253.2m worth of contracts in the current year, compared to none in 2013-14.
A trust spokeswoman said it had moved all CCG commissioned acute care on to block contracts following its acquisition of Princess Royal University Hospital in late 2013. "We transferred acquired sites on to the King's patient administration system during 2014 and wanted increased financial stability while we embedded and validated PRUH patient data during the following year," she said.
She added that these contracts "provided greater security of income during a time of change, and smoothed cash flow". The trust was "likely to remain on block contracts for local CCGs if the right levels are agreed".
Guy's and St Thomas' FT saw the second highest growth, with the data showing block contracts worth at least £172.8m signed for 2015-16. A spokesman said: "The trust, in discussions with local commissioners, agreed that given the scale of financial challenge facing the NHS, certainty of income in 2015-16 would be in the interests of everyone concerned, particularly our patients."
Cambridge University Hospitals FT, which had £104.6m moved on to block contracts in 2015-16, said the "block contract guarantees us an income, which is beneficial considering our financial position". Latest data shows the trust was £47.9m in the red by the end of November.
Barking, Havering and Redbridge University Hospitals Trust also saw block contracts for planned care grow by around £104m over the three years.
The trust's finance and investment director, Jeff Buggle, said: "The trust moved to a block contract arrangement for all activity, not just for planned care. This was due to concerns around the robustness of our systems and the ability to capture all the activity we were performing.
"A block contract provides stability whilst we strengthen the systems we have in place. There is no impact on patient choice."
Monitor is responsible for competition regulation in the NHS. A spokeswoman said: "Whatever contract form is used by local commissioners, it's important that it enables improvements to services so that they meet the needs of patients better. It's especially important that where block contracts are used, patient rights to choice are maintained. We are certainly not in favour of any contract that fails to deliver better health outcomes for patients. We want to see an approach that will move us towards the new models of care set out in the Five Year Forward View.
"Where commissioners make contractual decisions we expect them to do so based on doing what is right for the patients in their area and with particular attention to the changes that need to happen to create a better, more sustainable health service."