NHS trusts told to scale back capital spending plans
Treasury could insist on signing off even small projects
Difficulties with delivering transformation projects under discussion
NHS trusts have been told to scale back their capital spending plans and warned that the Treasury could insist on signing off even the smallest projects.
At an NHS Improvement event for trust finance directors last week, the regulator said trusts have forecast a combined capital spend of £4.3bn in 2016-17, against a provider sector budget of just £2.7bn.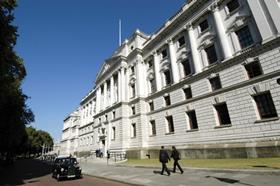 In a presentation document seen by HSJ, trusts were warned that "pressure [is] increasing for capital controls with HMT direction possible because of the current forecast – finance directors to review assumptions urgently".
A list of bullet points adds: "Potential for investment decisions to require NHSI/DH/HMT approval over de-minimis values."
There is a growing backlog of maintenance problems on NHS estates, while many of the 44 regions drawing up a sustainability and transformation plan are likely to put forward a case for significant capital investment in order to transform services.
The presentation noted that the "impact of capital constraint is a growing concern", and the "challenge in delivering transformation plans" is being discussed with the Department of Health and the Treasury.
Capital spending refers to investment in physical assets such as property or equipment, as opposed to revenue, which covers wages and other day to day spending.
Designated capital funds have been raided a number of times in recent years as part of efforts to avoid the DH overspending its larger revenue budget.
The total capital budget for the health service will be cut in real terms in each year through to 2021, with the budget frozen in cash terms at £4.8bn.
The document said spending by providers in the first three months of 2016-17 was "significantly less than plan", and "a large number of providers do not have the cash to fund the [capital] schemes".
It added: "High quality provider capital forecasting is essential as this information is being used to inform future policy direction. Please can you review your forecast urgently for month six."
Actual spending by trusts in each of the last three years was between £3bn and £3.3bn.
There are concerns in areas such as Greater Manchester about the availability of capital funding to implement crucial transformation changes to hospital services.
As previously reported, the Treasury has insisted on increasing involvement in decision making around NHS finances.
A spokesperson for NHS Improvement said: "The £2.7bn allocation of the total NHS capital budget is the provider sector's total capital expenditure budget for 2016-17.
"Formal control totals have not been set for individual trust capital. NHS Improvement is working with providers and the Department of Health to help manage trusts' capital plans and expenditure within this limit."