The national leadership of the NHS has issued an unprecedented warning to politicians that it cannot continue at current funding levels, and will need additional resources worth more than 1.5 per cent a year in real terms over the next parliament.
The health service cannot make enough efficiency savings to bridge its projected £30bn funding gap by 2021 if its real terms funding remains flat over the next five years, according to a document setting out the shared view of national NHS leaders.
The NHS Five Year Forward View, published today, warns that even if the NHS can continue to make annual productivity gains at nearly double its long term average, its budget will be £16bn short at the end of that period.
However, it sets out an ambition to make efficiency gains at an even greater rate than has been accomplished during the current period of austerity, through upfront investment to transform care models and working practices.
Even this would not close the gap. Monitor chief executive David Bennett told journalists yesterday that efficiency gains at the maximum level the forward view considers possible would leave the NHS £8bn short in 2021.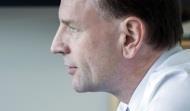 Closing that remaining gap would require real terms growth in NHS funding worth 1.5 per cent a year over the course of the next parliament, he added.
The document makes clear that efficiency gains at the upper level will only be possible if "the NHS gets the needed infrastructure and operating investment" to move rapidly to the new care models and ways of working it advocates.
It floats the possibility that some of the money needed to "pump prime" new care models could be raised by selling off surplus NHS land and property, and by encouraging foundation trusts to spend cash sitting on their balance sheets.
But it leaves open the possibility that it might need the next government to find an additional "transition fund" on top of real terms growth.
NHS England chief executive Simon Stevens said the forward view marked the "first time ever the NHS itself has set out a clear sense of direction for how services need to evolve and improve".
He told HSJ this was possible due to the greater distance between the leadership of the NHS and the government following the creation of NHS England under the health reforms.
Asked whether anything that had been left out of the report due to government pressure, Mr Stevens said NHS England and the other arm's length bodies had "had control of it".