Government endorses "all" of Lord Carter's recommendations
NHS Improvement says it "fully supports" the efficiency review
Finance chiefs welcome the report but urge caution over implementation
Health secretary Jeremy Hunt has backed Lord Carter's review into NHS efficiency, and said the government "will act upon all his recommendations".
Provider sector regulator NHS Improvement also said it "fully supports" the work.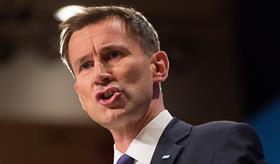 Several of the 15 recommendations relate to NHS Improvement, including the development of a new "care hours" metric to analyse staffing levels, developing a "national people strategy", and the creation of a single framework of performance and efficiency metrics.
In a statement to Parliament on Friday, Mr Hunt said: "[Lord Carter's] findings are revealing in that there is inexplicable and unwarranted variation across our hospitals in the way they manage their resources. This must be tackled and I welcome his proposals for addressing this.
"Lord Carter proposes and has already developed the first iterations of a model hospital with metrics and benchmarks for measuring productivity and efficiency across a whole range of costs. He also proposes a single integrated performance framework for hospitals – one version of the truth – that will help trusts set baselines for improvement and provide them with the tools to manage their resources daily, weekly, monthly, yearly…
"In light of Lord Carter's report, I can now announce that we will act upon all his recommendations and have asked Lord Carter to report back on progress with implementation by spring 2017."
An NHS Improvement spokesman said: "We fully support the valuable work done by Lord Carter. This report shows the NHS what's possible and that significant improvements to care can be made at the same time as securing the long term future of services.
"As a non-executive director of NHS Improvement, Lord Carter will be able to advise us on how best to take forward these recommendations as work continues to establish the new organisation."
The report says a significant proportion of the £5bn potential efficiency savings in the acute sector will not be found unless delayed transfers of care can be tackled.
When asked if this was possible amid cuts to social care services, the Labour peer told HSJ that hospitals must take more responsibility for stepdown care.
However, the Local Government Association said today: "This will only work if local government gets enough resource throughout the whole year to properly fund adequate provision of care services."
Measures announced in the comprehensive spending review were "nowhere near enough", the LGA said, which has called for £700m of the funding earmarked for social care through the better care fund by the end of the decade to be brought forward.
NHS Providers chief executive Chris Hopson said the 32 trusts that took part in the Carter review found it "extremely helpful", but added: "Our members tell us they are always nervous of central system leaders setting new national standards such as reducing back office costs to 7 per cent of income and requiring all trusts to operate with a maximum of 35 per cent of non-clinical floor space, when there can often be good local reasons for being an outlier against these standards."
Paul Briddock, director of policy at the Healthcare Financial Management Association, said: "All parties must be mindful of the immense pressure finance directors in the NHS, and their teams, are under. The review and its recommendations must not be used as a stick to further beat them with.
"We can only bring about change if they are kept engaged. Ensuring the process of implementing Lord Carter's recommendations is collaborative and open, rather than top-down, with the entire healthcare system working together will be vital to this."
Carter savings 'won't be enough', experts warn
1

2

Currently reading

Government to act on every Carter recommendation

3

4

5

6

7