Jeremy Hunt did not challenge assertion that overall spending would increase in real terms by only £4.5bn
Health committee chair emphasises that national cuts will impact local NHS providers
Simon Stevens says "we're going to have to cut out cloth accordingly" when asked about transformation funding
Jeremy Hunt has acknowledged that the full health budget was not protected in the government's spending review.
The health secretary, appearing before the Commons' health committee on Monday, did not challenge the assertion that overall spending would increase in real terms by only £4.5bn by 2021, after the NHS ringfence was redefined in November.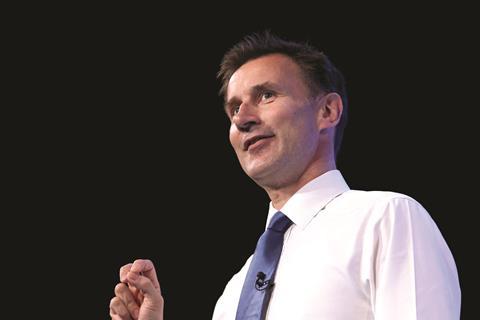 As highlighted last year by HSJ, NHS England's budget will increase in real terms by about £8bn, while other Department of Health budgets face cuts of 20 per cent.
In its public statements the DH has consistently referred to a £8bn increase for NHS England, rather than a £4.5bn increase for all health spending.
When pressed on this point by committee chair Sarah Wollaston, Mr Hunt said: "I do recognise that we didn't protect the entire health budget. But our determinant as to whether this was sufficient was what NHS England felt they needed in order to do to put in place the [Five Year Forward View].
"Yes, we're making some very challenging savings in the non-NHS England part of the budget, but I think it's right we do so for the simple reason that we're asking NHS providers inside the NHS budget to make very challenging efficiency assumptions."
Ms Wollaston pointed out that many of the national level cuts would have a knock-on effect on local NHS services. However, Mr Hunt said it was possible to make "smart efficiencies" that do not impact patient care.
When asked about the progress made in responding to the Carter review of NHS efficiency, Mr Hunt said things were "really motoring", but was unable to say whether the timescales for meeting the recommendations would be met, as the data is still being collected.
Appearing alongside Mr Hunt was David Williams, director general of finance at Department of Health; Simon Stevens, chief executive of NHS England; and Bob Alexander, executive director of resources at NHS Improvement.
Asked if there was enough funding available to achieve the transformation envisaged in the forward view, Mr Stevens said: "We're going to have to cut out cloth accordingly", but he was "optimistic to a degree".
He also confirmed that some vanguards that have not made progress as quickly as others would have their funding reallocated.
When asked if the DH had balanced its budget in 2015-16, Mr Williams said the accounts would be finalised in July so it was too early to give a definitive answer.
In response to concerns around "clever accounting" being adopted to balance the budget, he said: "It's not intended to just be clever accounting, but as you'll know from the 2014-15 accounts the overall outturn at group level is quite tightly managed. We want to make sure we are making every effort this year as well to deliver in within the sums voted for by Parliament."
NHS England reveals breakdown of £22bn savings plan
1

2

Currently reading

Hunt admits health funding was not protected in spending review

3