Future healthcare sector regulator Monitor has scrapped many of the controversial restrictions it had proposed placing on providers of essential NHS services, including debt caps, external credit ratings, and curbs on dividend payments.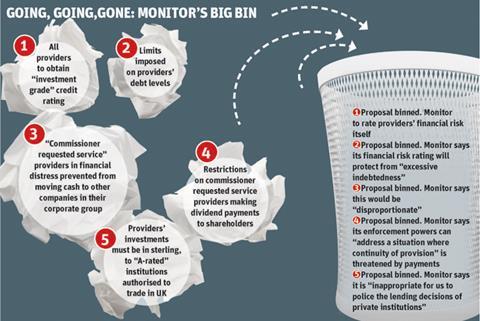 Under the 2012 Health Act, Monitor must set a series of licence conditions for all providers of essential NHS services – public and private – to prevent patients from being affected if a provider becomes insolvent.
Earlier this year, while the bill was passing through Parliament, the regulator published a series of "pre-consultation" papers proposing tough conditions to protect continuity of services.
However, Monitor's final consultation on the NHS provider licence, published this week, shows that many of the most eye-catching proposals have been dropped.
Among them are nearly all the conditions floated in the regulator's controversial second "tranche" of continuity of service proposals, published on 6 February this year. Monitor no longer plans to directly restrict the level of debt providers can carry, the ability of private providers to pay dividends to shareholders, or the organisations in which licensees can invest.
It has also dropped plans to require NHS providers to obtain and maintain "investment grade" ratings from credit rating agencies. Monitor now proposes to assess providers' levels of financial risk itself, using an "assessment framework" similar to the one it currently uses to regulate NHS foundation trusts.
Monitor chairman and interim chief executive David Bennett told HSJ the regulator wanted to "improve the ability of commissioners to find the best possible provider to commission from, for whatever service their patients need".
He continued: "So when we got feedback – particularly, say, from smaller providers or charitable providers – that some of the provisions we were originally asking for were going to be very difficult for them, we've worked very hard… to try to find ways of removing those problems."
Of the scrapped credit rating proposal, he said: "It was one way of establishing whether or not a provider was exposed to excessive financial risk, and it had its attractions, but we were convinced that it wasn't going to be sufficiently practical to use it. So we've taken a different approach, but it achieves the same goal."
Monitor has proposed that licence conditions to protect continuity of services should only apply to services that commissioners have selected for additional regulation, or "commissioner requested services".
The regulator will shortly publish its proposed guidance to commissioners on how to select CRSs. However, Mr Bennett said the essential question was: "Is this a service which a commissioner would struggle to have provided from another provider, with acceptable access, should the current provider get into difficulty?"
He added that Monitor expected only a "small" proportion of NHS services currently provided by the private sector to be commissioner requested. Asked if he thought privately-run secure mental health facilities could be designated as CRSs, he said: "I think we do think that's the most likely area."
For NHS providers, the consultation proposes that all foundation trust services currently listed as "mandatory" will initially be designated CRSs when FTs are issued with licences in April 2013. But it adds that "over time we expect that commissioners will choose to change which services they classify as CRS and to commission some CRS from providers who are not NHS foundation trusts, that is, independent and third sector providers".
The proposed continuity of service conditions require all CRS providers to maintain an adequate financial risk rating, to co-operate with Monitor personnel if they come under financial stress, and to pay into a "risk pool" to fund continued provision of their CRS if they fail financially and are placed in "special administration".
The consultation suggests that where a provider enters the "distress" stage on Monitor's risk assessment framework the regulator may send in a specialist team to develop a contingency plan for protecting its CRSs if the provider were to fail. The team would also work with commissioners to "review the provider's current designation of CRS and whether these properly represent those services that should be protected".
Asked how many of these teams Monitor might have to mobilise in 2013-14, Mr Bennett said: "We're looking at that, unsurprisingly. We've got six [FTs], I'd say, that are in fairly serious financial difficulties. I'm pretty clear not all of those would be sliding into the failure regime."
Where trusts had credible restructuring plans, he continued, the Department of Health could "choose to continue to fund them and allow the restructuring to happen on a solvent basis".
He added: "Therefore, the big question is, at 1 April 2013 how many trusts are there that don't have credible restructuring plans and don't look like they're ever going to produce them as long as they're only in the distress regime."
The consultation runs from 9am, Tuesday 31 July to 23 October, and can be found here.
See 'Monitor's Big Bin' diagram in the 'Related Files' section of this article.
U-turn on 'Chinese walls'
Monitor has abandoned its plan to build "Chinese walls" within its organisation to separate its existing role as regulator of foundation trusts from its future responsibility to regulate the entire NHS healthcare sector.
David Bennett, Monitor's chair and interim chief executive, had previously proposed to have separate senior executives for the two roles, and Chinese walls "to ensure information or intelligence does not flow inappropriately between the two areas".
He had warned that unless the regulator could show clear separation between its existing duties and those given to it by the Health Act it was likely to face "numerous" allegations of improper conduct.
But Mr Bennett this week told HSJ that, following last-minute changes to the legislation before it became law, Monitor no longer planned to adopt this structure.
The regulator, he said, was "now operating under a single primary duty, which is about protecting and promoting the interests of patients". In any circumstance where Monitor might be accused of a conflict of interest "we always have to take ourselves back to that single fundamental question: what answer will be in the best interests of patients?"
The position is in marked contrast to Mr Bennett's position on 30 November last year, when he submitted a Monitor board paper proposing Chinese walls. "Unless Monitor can clearly demonstrate it has acted properly, allegations and challenges around improper conduct owing to undue influence being exercised by one regulatory function on the other are likely to be numerous," he then wrote.
Incentive to avoid service protection
Commissioners may be given a "financial incentive" not to designate large numbers of NHS services for extra regulatory protection, Monitor has suggested.
Under government reforms, "commissioner-requested services" will gain extra protection if their provider gets into difficulties.
Monitor's consultation states one option for doing this would be to levy higher "risk pool" charges on those commissioners who designate more services as CRSs. Monitor plans to require all commissioners and CRS providers to pay annually into a risk pool, which would fund the costs of maintaining services if a provider fails financially.
"It might be reasonable to have a higher levy on commissioners that have designated a higher volume of services as CRSs, as they may be more likely to call on risk pool funds," it states.
Monitor drops controversial credit rating plan
1

Currently reading

Monitor drops controversial credit rating plan

2

3