NHS providers have fallen almost £1bn short of their revised financial target for 2015-16, according to locally reported figures
This is despite the positive impact of dozens of "capital to revenue transfers"
Risk that Department of Health will breach its spending limit for the year, experts warn
Charlesworth: DH strategy to contain deficit "blown out of the water"
EXCLUSIVE: NHS providers have fallen almost £1bn short of their revised financial target for 2015-16, finishing the year £2.7bn in the red, HSJ analysis has found.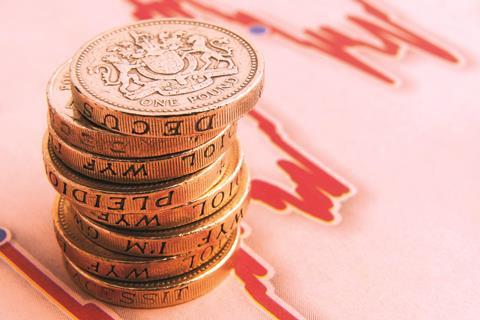 According to trusts' latest available figures, the sector finished the year with a combined deficit of £2.7bn – against a nationally set target deficit of no more than £1.8bn.
This is despite the positive impact of dozens of "capital to revenue transfers", where deferred capital spending was used to boost the revenue position.
While the transfers have been successful in boosting revenue, this appears to have been offset by further deteriorations in some trusts' financial performance in the final months of 2015-16.
North Bristol Trust, for example, was forecasting a deficit of £34m at the end of December, which was already £16m worse than planned. By March the deficit had swelled to £52m, partly as a result of contract penalties for elective care and more than planned spending on agency staff.
The huge combined deficit, driven largely by the acute hospital sector, means there remains a serious risk the Department of Health will fail to balance its revenue budget for 2015-16.
In 2014-15, when the provider sector deficit was £843m, the DH reported an underspend of just £1m, or 0.001 per cent of its budget.
Jim Mackey, chief executive of NHS Improvement, has warned that blowing the DH budget would "annihilate confidence" in the NHS and be "fatal for a lot of people".
In February, NHSI reported that the forecast provider sector deficit for the year was £2.37bn. This was based on financial performance for the first nine months of the year, as well as £320m of local capital to revenue transfers agreed after mid-January.
Official full year figures for the financial performance of the provider sector are due out on Friday.
The national control total was already relaxed mid-way through 2015-16, as providers were told at the start of the year that the combined deficit should not exceed the £843m reported in 2014-15.
Commenting on HSJ's research, Health Foundation chief economist Anita Charlesworth said: "Obviously this is worse than NHS Improvement were expecting after December's figures, and remember that the headline position includes a lot of one-off support, so the underlying position will be even worse.
"This clearly puts the [DH] expenditure limit at risk, because I don't think anything above £1.8bn fits neatly into it. If they succeed they will have done it through a technicality.
"The aim was to contain the problem in 2015-16 and reset the system this year, but that strategy seems to have been blown out of the water."
She warned the financial position of clinical commissioning groups has also become "really tight", and added: "One of the most worrying things that's happened is the systemic loss of financial control has happened at the same time as performance deteriorating.
"Fragile, under pressure organisations are risky [in terms of patient safety] and you can't continue to run a system with this level of pressure and short termism."
Senior DH officials have said that any overspending on the overall NHS budget in 2015-16 will be "taken off us" in 2016-17.
In a controversial and highly unusual move, the DH sent external accountancy firms into 20 NHS organisations, to assess the way local finance teams have treated issues such as income deferral and third party disputes. It is not yet clear what the findings of this review are.
An NHS Improvement spokesman said: "We will publish an update on the operational and financial performance of the NHS provider sector shortly."
HSJ's analysis is based on month 12 outturn figures reported by 212 of England's provider organisations. For the remaining 27 trusts for which outturn figures were not available, HSJ used the latest available forecasts, in most cases taken from their February (month 11) finance reports.
NHS providers end year with £2.7bn deficit, HSJ research reveals
1

Currently reading

NHS providers end year with £2.7bn deficit, HSJ research reveals

2

3