Jim Mackey says NHS providers are on course to record deficit of £500m for 2016-17
NHS Improvement chief says this is a big improvement but "we can't stop there"
NHS Improvement to unveil measures aimed at further improving financial position
Mackey promises he will abide by any "control total" financial targets that have already been agreed
EXCLUSIVE: NHS providers are on course to finish 2016-17 £500m in the red, despite national rules requiring the sector to eliminate its deficit this year, Jim Mackey has revealed.
The chief executive of NHS Improvement said the plans represented a "big movement" in the financial position, given that the sector finished last year with an underlying deficit of around £3bn and had access to a £1.8bn fund to cut deficits this year.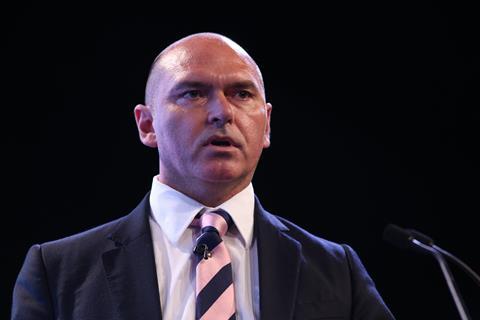 However, he added that "we can't stop there" and said NHS Improvement would be speaking to the sector in coming weeks about ideas to further improve its finances.
These include the radical consolidation of provider trusts' back-office services, to create "proper shared services" across large patches.
They also include creating a "window" of opportunity where trusts can come forward with services they no longer want to run, because they are uneconomic, propped up with temporary staff and located near an alternative service. Mr Mackey indicated that the focus here would be on less contentious services, rather than on those such as A&E where change provokes the most controversy.
Planning rules issued to the NHS in the wake of last November's government spending review said the provider sector would "in aggregate, be required to return to financial balance" in 2016-17.
However, the agreement of contracts and of trusts' "control total" financial targets has proven intensely difficult, with the latter process dragging on for many months past its February deadline.
Speaking at an HSJ/Capsticks roundtable event last week, Mr Mackey revealed there were still around 20 organisations that had not yet signed up to control totals, down from around 100 in mid-May.
Asked why this had proven so difficult, he said that the spending review was done at a point when "the NHS was still getting worse really quickly".
The deal was based on the assumption that providers would record a £1.8bn deficit last year, but it was "really clear at the half-year point that we weren't going to hit £1.8bn – so we were always out of sync by a large sum".
Mr Mackey said there was still some dispute about the actual underlying deficit for last year, but you did not "have to be a maths phenomenon" to work out that it was around £3bn.
He continued: "We've gone from that, say £3bn, and we're about half a billion short [of the provider sector being in balance this year] at the minute."
This was a "pretty big movement" in the financial position, but the provider sector could not "stop there" and needed to continue looking for further savings. This need, he suggested, was "not so much about this year" but about "going into future years in a stable position".
He added: "I will not ask people to do what's unreasonable."
Mr Mackey dismissed rumours that NHS Improvement was going to "tear up control totals" and issue trusts with even more demanding financial targets. He said that if someone has "shook hands on a control total" he was going to abide by that agreement.
However, he added: "When you're managing your money it's not a once a year endeavour. So we've got to a certain point [in financial plans], and we've [now] generated some more ideas that we'll talk to people about in a couple of weeks' time."
One of these is the consolidation of providers' back-office functions within the 44 patches set up for the sustainability and transformation plan process.
Mr Mackey said: "I led a back-office consolidation 15 years ago – most of the NHS is still completely unreconstructed, and it's all about power and control.
"So when the money's tight, let's get over ourselves and, on an STP basis, let's rationalise back office and get proper shared services. There's a lot of money in that."
Explaining another savings idea, Mr Mackey said: "There are a lot of people spending money propping up services that actually they don't want to run anymore, because they're not economic and not [of a] good standard, they're full of locums and agency [staff], and there's [an alternative] service next door.
"I'm not talking about A&E and obstetrics and all the contentious stuff. There's a dermatology service in London that single-handedly inflates the locum rate because they're paying so much.
"So for those things I'm saying put them on the table and let people have a bit of a window where they can say, 'This isn't right, I'm burning money here and it's not a good service.'"
Government plans for a major intervention in July to improve NHS finances were revealed at the NHS Confederation conference earlier this month. HSJ understands that this drive was still expected to go ahead in the wake of last week's Brexit vote, although it might not now be fronted by the prime minister, as had previously been expected.
A full report on the HSJ/Capsticks roundtable on provider finances will be published in August.
Exclusive: Paybills and planned care targeted in huge savings drive
1

2

3

Currently reading

NHS providers on course for £500m deficit, says Mackey