NHSI's head of procurement and corporate services to join Deloitte
Last November, NHSI awarded the firm a £400,000 contract for NHS procurement support
Discussions "ongoing" over NHSI extending contract with Deloitte
A senior manager working in NHS Improvement's efficiency team will become a director at Deloitte, seven months after he was part of a panel that awarded a contract to the firm for help on a major shake-up of NHS procurement. 
Michael Hyne, NHSI's acting director of procurement and corporate services, has been in his current role since July 2018.
Mr Hyne's move to the consultancy firm comes after he played a key role in the early stages of a project aimed at radically changing how the NHS buys goods and services.
NHS Improvement told HSJ Mr Hyne's move did not breach its corporate policy and it did not raise any conflict of interest issues in relation to the contract award to Deloitte.
The regulator did not answer when HSJ asked what tasks Mr Hyne's new job will involve, nor what its corporate policy was regarding senior managers leaving for the private sector.
Mr Hyne joined NHSI from Deloitte in April 2017 as director of corporate services.
HSJ understands Mr Hyne was promoted to his current position in July 2018 on an interim basis after the departure of his then manager Paul West.
In mid-November last year, Mr Hyne was part of a four-person panel from NHSI which awarded a contract worth up to £400,000 to Deloitte for initial work on a new procurement model. An NHSI spokesman said the contract was awarded "following the formal procurement process".
According to the contract's tender documents, the new model would "transform the way procurement is delivered" at local level with significant changes to working practices.
This included changes to every NHS procurement team in England such as a focus on "consolidation of functions and structures" and "significant technology automation and standardisation of functions".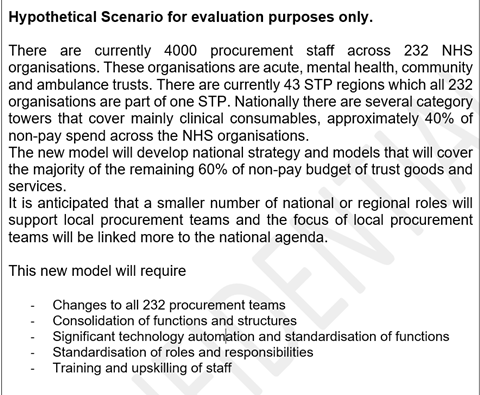 If Deloitte's initial proposals, drawn up together with NHS trust procurement chiefs, are agreed upon by the wider NHS procurement community, the firm could also help implement the model across the health service, which would effectively extend the contract by up to 18 months.
In March, four months after the contract was awarded, Mr Hyne told NHSI he was resigning. A spokesman for the regulator said Mr Hyne would join Deloitte next month.
A spokesman for the regulator said: "The contract was awarded following the formal procurement process. No NHSI corporate policy has been breached."
The spokesman confirmed the £400,000 contract only applied to the first phase of work on the new model. Asked if NHSI has decided if Deloitte will continue to provide its support during phase two, the spokesman said: "Discussions are ongoing."
Earlier this month NHSI, which is effectively merging with NHS England, advertised a job for a "director of procurement and commercial delivery". The job description stated the post-holder would lead the implementation of the new model.
As part of the merger, Mr Hyne's team will move from NHSI's operational productivity unit, which is being scrapped, into reporting to Simon Corben who is NHSI and NHSE's joint director of estates.
Source
Information obtained by HSJ