Andrew Sturdy and Andrea Gibbons write about a specific case of internal management consulting at Taunton and Somerset FT
There is almost continuous controversy over the use of external management consultancy in the NHS. Whatever position is adopted, there should always be room for some support and advice for management to be provided internally. Recent academic research across private and public sectors (including the NHS) has identified different ways of going about this.
Below, we briefly introduce the findings and compare them with a specific case of internal management consulting at Taunton and Somerset Foundation Trust.
Internal management consulting was once the less fashionable side of the sector and remains less visible. But in fact, many high profile organisations, especially multinational corporations, have long had internal management consulting operations. Indeed, internationally, it is only a very small number of countries who account for the vast bulk of external management consulting use.
Also, in recent years, with the spread of management education and of former external management consultants, many managers have skills profiles very similar to those of external management consultants, in project and change management for example. This also applies to the NHS where, even if the term management consulting is not used, there are numerous examples of internal management consulting units working successfully, in small and large trusts.
A research project, funded by the government's Economic and Social Research Council, set out to map some of the different ways in which specialist change management or consulting units were organised across 24 public and private sector organisations. It found great variety and dynamism, but identified four main types according to how embedded or independent they were in the main structure of their organisation and how widespread the scope of the changes they supported were.
1. Transformers – units supporting huge change programmes across the whole organisation and based outside of the formal structure, perhaps lasting a few years before disbanding or being absorbed.
2. Enforcers – often associated with (and relying on) the CEO or strategy group and tasked with ensuring that departments across the organisation conform to requirements.
3. Specialists – support smaller scale changes and are located within a particular department such as human resource management or IT, or a subsidiary.
4. Independents – as the name suggests, they are largely outside the main structure and may also have external clients, but also need to work hard to generate internal business.
Together, transformers, enforcers, specialists and independents form the TESI model and all share similar challenges and characteristics, especially around sustaining credibility (see figure below). But how does this model fit with practice in the NHS? This has yet to be tested out fully, but one example gives some insight.
Many NHS organisations have staff with improvement expertise, often identified by having quality improvement or patient safety as an official or unofficial part of their role. These are indicative of a specialist model of change delivery.
Organisational transformation
In contrast, trusts such as Taunton and Somerset FT have consciously designed a transformer model of delivery, tasked with delivering wholesale organisational transformation. What is interesting about this case is that the trust has invested in bringing the skill set and function of management consultancy in house in a permanent team. Its raison d'etre is to eliminate, or at least reduce, the need for external management consultants and interims.
The key point here is to show how change can be supported effectively internally in a variety of different ways and that this is a widespread practice, across all sectors
The Taunton and Somerset "Improvement Team" is modelled on the practices and structure of their external counterparts and provides internal capability to deliver management "consultancy" assignments and projects that consultants or interims would have otherwise been tasked with.
Consistent with the TESI model, the team is centrally financed and structurally detached, with a broad scope and focus on delivering results at the organisational level. Their team, which was primarily recruited from within, combines deep NHS experience with advanced technical quality improvement, project management and measurement expertise.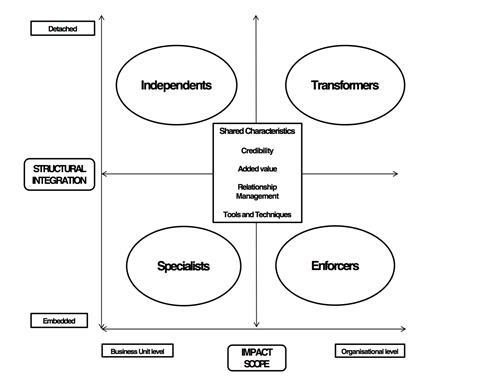 Unlike embedded enforcers, the team focus is on partnering with and coaching clinical and operational teams to deliver improvement using techniques drawn from the Institute for Healthcare Improvement.
Seeking to take a strategic and evidence based approach to delivering organisational change, the team has developed its own proprietary blended methodology and tools for project management, improvement and "benefits realisation". Another important feature is the team's focus on knowledge flow and using and creating evidence to drive improvement, something which externals are often asked to achieve, but important differences also apply.
For example, to address criticisms often leveled at external consultants around perceived lack of transparency, accountability and evidence of benefits, projects are held accountable by executive led boards. This structure also aims to buffer the team from being drawn into short term strategic or operational pressures and to ensure transparent communications to staff, patients and other stakeholders.
No doubt there are other examples of internal consulting units in the NHS, perhaps matching other types in the TESI model or different again. Indeed, the research found that units changed their form over time, by moving location or adding new specialisms and also existed in mixed or hybrid forms. The key point here is to show how change can be supported effectively internally in a variety of different ways and that this is a widespread practice, across all sectors.
A short policy briefing and further details of the research can be found here.

Andrew Sturdy is professor of management and organisation, University of Bristol and a visiting professor at VU Amsterdam. His research lies mostly in the field of organisational innovation and the role of management consultancy. His work includes co-authored books such as Management as Consultancy. His latest work explores consultancy in national and transnational public sector contexts, including the NHS.