Dissolution of NHS Direct cost £89m, documents reveal
Regulators say "lessons learned" for transactions planning
The dissolution of NHS Direct over two years cost £89m, documents reveal.
The money covered redundancy, exiting supplier contracts and "project costs".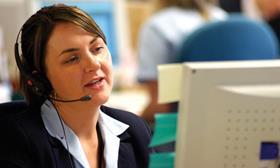 The minutes of an NHS Trust Development Authority meeting in November, released last week, said the process had seen "lessons learned" at the regulator, which oversaw the winding down.
NHS Direct, which launched in 1998, was formally dissolved by the health secretary at the end of the 2013-14 financial year. It had provided remote clinical care and services from a network of call centres and home workers. It was largely replaced by NHS 111 services.
NHS 111 services had a difficult start and have been criticised over alleged care failings.
NHS Direct – which had the status of an NHS trust – was originally intended to shut down a year earlier but this was deferred after it won 11 contracts to run NHS 111 services.
In July 2013 it said it had to pull out of the contracts, set by NHS England, when they proved financially unsustainable.
In October 2013 the final dissolution of the organisation was confirmed, with some staff transferred to ambulance trusts.
NHS Direct's annual accounts show "decommissioning costs" of £69.2m for 2012-13, £33.6m of it in redundancy costs for 1,039 staff. In 2013-14 redundancy costs were £7.4m.
The organisation had a turnover of £139m in 2012-13 and £79m in 2013-14.
The TDA's senior responsible officer for the process was Dale Bywater, director of delivery and development for the Midlands and East.
The minutes said Monitor and the TDA had updated their transaction planning guidance in the light of the experience with NHS Direct, which had involved "a high level of resource input".
A TDA spokesman said: "The dissolution of NHS Direct was a complex process. Good governance within NHS Direct and a smooth transition of patient services were key objectives for our work. The successful transition of services to new NHS 111 providers by April 2014 is testament to the success of this work.
"However, the dissolution of an NHS provider is not a common activity and it gave us key learning points for our transaction guidance such as the need for strong multi agency coordination and legal governance frameworks when undertaking a dissolution."