Simon Stevens says he is not expecting "capital questions" to be answered in next week's budget
NHS England chief executive says he has been making the case for social care to receive extra funding
Five Year Forward View delivery plan will include "a smaller list of key improvement priorities for the next several years"
Simon Stevens has said he does not expect new capital funding to be given to NHS in next week's budget announcement.
Speaking at the Nuffield Trust summit today, the NHS England chief executive said: "I'm not expecting the [NHS's] capital questions to be resolved at this juncture, but then obviously the principal fiscal event for this year will be in November and those are obviously decisions for the chancellor and prime minister."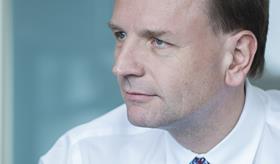 He added: "We do need capital; we've said that from the get go."
Major concerns have been raised about the level of capital available to the NHS, which is due to be cut over the course of this parliament. It is likely that capital spending – such as investment in buildings or equipment – will need to rise significantly in order to fulfil the ambitions set out in sustainability and transformation plans.
However, NHS Improvement chief executive Jim Mackey said in November "there is actually, I think, a door open on capital" at the Treasury, and that "we've got months" to "get our case together" for additional funding.
Meanwhile, in the past week senior national NHS officials have indicated they still hoped there would be additional capital funding available, in order to back transformation plans. The proposals put forward by STPs are known to have effectively requested billions of pounds in capital funding, far exceeding that currently allocated to the Department of Health.
Mr Stevens also said he has "been clearly making the case for social care". If funding for social care became available and "at least some of it is appropriately targeted at helping people who need social care but who are stuck in hospital because then that would produce the double benefit of realising some capacity in hospitals, which will then improve the quality of A&E services," he said.
He described this scenario as a "win, win" for the NHS.
Last week HSJ revealed the Care Quality Commission's role will be extended to regulating local councils' management of social care, as part of funding announcements expected for social care in the budget on Wednesday.
Later this month, NHS England is also expected to publish its Five Year Forward View "delivery plan".
Speaking about the plan, Mr Stevens said: "The delivery plan we are publishing at the end of the month will set out very clearly that we've got to take an honest look at the pressures in the system. We've got to be clear about a smaller list of key improvement priorities for the next several years. We've got to make it easier for to get stuff done locally through the system and we've got to create ourselves as much head room as we can through efficiency programmes, given the funding constraints that we're operating in."
Stevens 'not expecting' new capital before autumn
1

Currently reading

Stevens 'not expecting' new capital before autumn

2

3