Lord Carter recommends trusts determine whether their in-house departments are viable this year
Urges NHS Improvement to develop benchmarks for admin costs, pharmacy and pathology
Methodology used for review has been criticised
Trusts should find out this year whether they will be forced to outsource their administration, pathology and pharmacy functions, Lord Carter has recommended.
The peer's report on NHS efficiency, released today, has advocated a large transfer of power from acute trusts to the centre.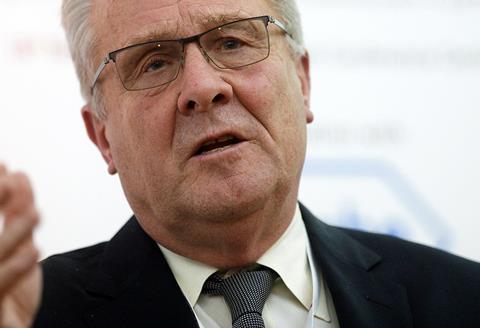 Lord Carter said NHS Improvement should set benchmarks for the efficiency of individual trusts' corporate/administration workforces by July and pathology departments by December.
Trusts will have a target of corporate/admin spending not exceeding 7 per cent of income. If they are unlikely to achieve this, they will have to submit plans for outsourcing or sharing the function with another provider by October. These plans will then have to be achieved by January 2017.
In July, benchmarks for HR, finance, IT and procurement departments are due from NHS Improvement, according to Lord Carter's report.
HSJ reported many of the report's findings when a draft was leaked last month.
The Labour peer has urged NHS Improvement to force trusts to collaborate with at least five others to "modernise their procurement function".
The report added: "It is our view that any trusts not performing should face consequences, potentially with trusts losing controls and being mandated to join shared service solutions, use the national solutions or other actions to be determined by NHS Improvement."
He recommended pathology efficiency benchmarks be released in December this year, and that trusts "unlikely" to hit them by April 2017 be ordered to make a plan for outsourcing or consolidation by January.
In July, trust pathology departments should have to hit new "quality assurance" metrics from NHS Improvement, he said.
The report also urged the government to adopt a "hospital pharmacy transformation programme", with trusts forced to agree plans that could include "consolidation with, or outsourcing to, other providers who need not always be NHS employers".
The report stuck to its overall estimate that the NHS could save £5bn a year by 2020, made in June. This included £2bn to be saved through workforce productivity and £1bn each from pharmacy, procurement and estates.
The methodology used in coming up with some of the numbers was criticised in some quarters.
Nuffield Trust senior policy analyst Sally Gainsbury said: "Benchmarking is not a bad method to highlight areas where efficiencies might be found or management improved. But it is rarely useful as the basis for centrally driven targets – particularly not when it is drawn from flawed data sources.
"The risk is that these abstract targets then drive equally abstract and perverse management decisions. Particularly when, as in the case with pharmacy back office and pathology, Carter makes explicit calls for trusts to consider outsourcing options.
"Outsourcing may well be the sensible option in some cases, but not if it is driven solely by the need to manipulate the metrics to fit a flawed target."
The Financial Times reported research from management consultancy Bain in September saying NHS private sector outsourcing had stagnated after "exuberant" growth from 2012 to 2014.
In 2014 outsourcing giant Serco announced plans to withdraw from the clinical health services market.
Trusts in Merseyside pulled out of a payroll and recruitment services outsourcing deals with Capita in 2014, three years into a seven year arrangement.
Carter savings 'won't be enough', experts warn
1

2

3

4

5

6

7

Currently reading

Tell trusts whether to outsource this year, says Carter