Nearly £300m of unallocated sustainability and transformation funding could be used to incentivise trusts to exceed their financial target for 2016-17
Proposal being prepared by NHS Improvement for the Treasury
Experts warns policy could "exacerbate" problems for trusts in difficulty
Trusts that miss out on sustainability and transformation funding could see their allocations offered to organisations that can go beyond their financial targets.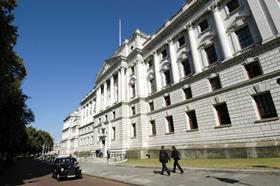 NHS Improvement is preparing proposals to use around £300m of unallocated or unattained STF to incentivise trusts that can exceed their financial target for 2016-17, HSJ understands.
Under rules introduced this year and overseen by the Treasury, shares of the £1.8bn STF are paid to providers when they meet their bottom line financial "control totals", with the money withheld from trusts missing their quarterly targets.
A pot of "unallocated" STF already exists due to some trusts refusing to accept a control total. This grew to £110m in the first three months of the year as other providers missed their quarterly target.
An update given to providers by NHS Improvement last month, seen by HSJ, said this pot was expected to rise to £297m by the end of the year due to more targets being missed.
The document added: "NHSI is preparing a proposal for [the Treasury] to use this residual funding as an incentive fund for those that can do better than [their control total]."
Many trusts have agreed a deficit control total, so if a trust in the red was able to better its deficit target, this could reduce its reliance on bailout cash from the Department of Health.
Bailouts are now routinely offered in the form of loans that have to be repaid with interest, in a bid to further incentivise trusts to be financially sustainable.
For trusts in surplus that receive extra STF, it is unclear whether there would be limitations on how it could be spent beyond the current year. NHS Improvement did not address this question when asked by HSJ.
Sally Gainsbury, senior policy analyst at the Nuffield Trust, said: "In an effort not to be seen to reward failure, there is a risk this policy could instead exacerbate individual trust's financial problems by requiring those struggling the most to make interest payments back to the Department of Health, further reducing their ability to invest in high quality patient care."
A spokesman for NHS Improvement said: "The policy for how unallocated 2016-17 funding is allocated is yet to be finalised. However, one proposal is to use the funds as an extra incentive for trusts that exceed their control totals.
"We hope that by doing so we can encourage trusts to work on the improvements they have already made and strengthen their financial position even further.
"Control totals, which can be a surplus or deficit position, are the minimum level of the financial performance required of each trust for the year. As such, those in surplus would not disproportionately benefit from this proposal."