New financial controls require 4 per cent efficiency savings from NHS providers, says Nuffield Trust report
Savings of 2 per cent widely deemed to be realistic target for the sector, as outlined in Carter review
Think tank warns of "crude rationing" to achieve savings required by 2020
NHS trusts will have to make efficiency savings of 4 per cent to hit their financial targets, despite this "never being achieved" before and being widely deemed unachievable, a detailed analysis has found.
In a new report on NHS finances, the Nuffield Trust says providers have only managed savings of 2 per cent in recent years, so would have to double this rate to achieve the "control totals" mandated by NHS England and NHS Improvement for 2016-17.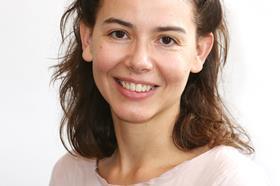 Savings of 2 per cent are widely deemed to be a realistic ongoing target for the sector, as outlined in Lord Carter's report on NHS productivity, and by former Monitor chief executive David Bennett.
Jim Mackey, the current chief executive of NHS Improvement, also called for a "more realistic efficiency ask" for providers in an interview last November.
Although an efficiency assumption of 2 per cent was built into the payment tariff for 2016-17, this only helps prevent the underlying provider deficit of £3.7bn growing significantly larger, the think tank says.
However, the new financial targets seek to drastically reduce the underlying deficit to £2.35bn, requiring additional 2 per cent efficiency savings.
Sally Gainsbury, senior policy analyst and author of the report, told HSJ: "The main reason NHS providers find themselves in the financial mess they are in today is the result of five years of unrealistically high efficiency targets [of around 4 per cent].
"But now providers are implicitly being asked to do that all over again as they will need to cut their costs by 4 per cent a year for the next two years running at least, to stand any chance of balancing their books by 2018-19.
"There is little reason to believe that level of provider cost cutting is achievable, let alone sustainable. Yet there does not seem to be a credible plan B.
"In an ideal world commissioners would have been focused on efforts to reduce demand earlier. But this did not happen, so the NHS once more turns to providers and asks them to squeeze out more cost."
National leaders hope new measures now in place, such as the cap on agency spending, will substantially increase providers' ability to deliver efficiency savings compared to previous years, though to what extent this is the case is not yet clear.
The report, which examines various scenarios for the NHS budget over the next five years, says continued 2 per cent savings from providers would leave the health service on track for a £5.7bn net deficit by 2020-21. This would be inlcude a £4.4bn provider deficit and a commissioning overspend of around £1.3bn.
Although the £5.7bn could be reduced to £2.5bn with the "sustainability and transformation fund", this would wipe out the entire budget intended for service transformation, and miss the requirements set out in the Five Year Forward View.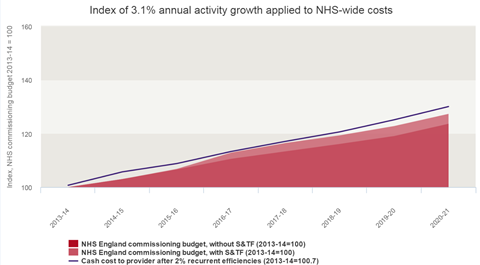 Without extra provider efficiencies, the overall budget could only be brought into balance through "crude rationing" by commissioners, to halve the current activity growth rate to 1.5 per cent, according to the report. But even this would require the entire STF to be spent on provider deficits.
The report adds: "In such a scenario the NHS would have dispensed with the ambition to invest in genuinely reducing the growth in demand through improved services and population health…
"But this precarious balance would be achieved at the cost of preserving the NHS in aspic, standing still and deliberately halting any further advancement in healthcare quality, such as the adoption of new treatments available elsewhere in the developed world.
"The political acceptability of that, following a Brexit campaign which highlighted a potential £350m extra for the NHS a week, is highly questionable."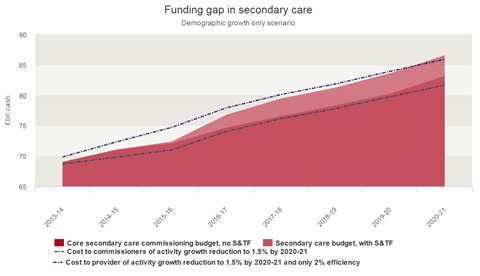 In order to achieve financial balance and fully free up the STF to invest in service transformation, providers will need to achieve the savings assumed by the new financial controls – initially 4 per cent – along with a reduction in activity growth from around 3 per cent to 2 per cent, the report suggests.
But the report says of this scenario: "That would imply a rather heroic and rapid return on any transformational investment, for which there is little or no evidence base."
In March, the Commons public accounts committee said there was "not yet a convincing plan" to deliver the £22bn savings targeted in the forward view.
In May, NHS England said its modelling around the required savings assumed the provider deficit for 2015-16 would be no more than £1.8bn. The reported deficit was £2.45bn, while the Nuffield Trust estimated the underlying deficit was £3.7bn.
A spokesman for NHS Improvement said: "The NHS faces serious financial challenges, and the financial reset announcement made recently set out our approach to a number of these.
"NHS Improvement and other national bodies are helping providers through measures such as supporting trusts in implementing the recommendations of the Carter Review, the financial improvement programme and the STP process."