NHS Improvement figures show trusts spend £3.2bn a year on corporate services
Regulator estimates a possible £400m in savings and significant variation
Thirteen trusts have corporate costs of more than 7 per cent of income
NHS trusts spend £3.2bn a year on corporate services such as HR, finance, legal and payroll, NHS Improvement figures reveal.
The regulator said the provider sector could save £400m if all trusts performed as well as the average on paying less for these services.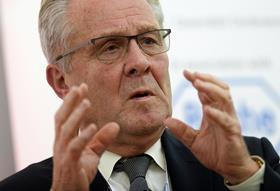 NHS Improvement collected the data as part of implementing the Carter review and has now sent copies to trusts so they can benchmark their performance against other organisations. NHSI will not disclose the data it has collected in any greater detail than aggregate totals.
A spokesman said 80 per cent of the £3.2bn in corporate services came from IT, finance and HR, and there was "significant variation between trusts".
In a statement, NHSI said the top 10 per cent of providers spent only £2.80 on corporate services per £100 spent on patient care, while the bottom 10 per cent spent £7.50 per £100 spent on patient care.
The data comes from 2015-16 and was collated from responses by 230 out of 236 trusts.
NHS Improvement director of operational productivity Jeremy Marlow said: "The closer you look at the NHS the more you see variation in what things cost and the knock-on effect this can have on hospitals and patients is huge.
"We are working hard to support NHS providers to identify where they can improve so they can use their resources as effectively as possible, so that the service can continue to provide quality and sustainable care.
"We want to support trusts to have high quality, efficient corporate services they can rely on and we are asking them to work together to become more efficient, so that the NHS as a whole can benefit."
The Carter review into NHS efficiency stipulated that all trusts bring their administration costs to below 7 per cent of their income by April 2018. Plans for this had to be submitted by January 2017 if this would involve sharing services with another trust or outsourcing them.
NHS Improvement said 13 out of 230 trusts in the data collection have corporate services costs greater than 7 per cent of their income. The regulator would not reveal which trusts they were.