Former chief executive, chair and finance director of Gloucestershire Hospitals FT blamed for financial collapse
"Excessive measures" taken to manage financial position
Chief executive "did not encourage challenge" and chair was "ineffective" at holding him to account
Auditors have blamed the senior leadership of a hospital trust for a £16m blackhole in its accounts.
An abridged version of a Deloitte report commissioned by the trust laid the blame for the financial problems at Gloucestershire Hospitals Foundation Trust at the feet of senior management, particularly former chief executive Frank Harsent, chair Clair Chilvers and finance director Helen Simpson. They have all subsequently left their roles.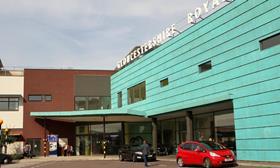 The trust reported surpluses of £3.5m and £1.8m in 2014-15 and 2015-16 respectively, but had to ask for a working capital facility in March 2016 and "distressed funding" in September 2016 from the Department of Health, as it became clear it had been running concealed deficits.
The trust now predicts a deficit of £14.6m for 2017-18, after an initial prediction of a £5.6m surplus.
The Deloitte report said: "This underlying trading deficit position has been exacerbated by non-delivery of [savings] during the year, adjustments to the original planning assumptions and a number of prior year adjustments. The extent of the underlying problem has apparently come as a surprise to a number of current and former board members."
The auditors said "excessive measures" were taken to manage the financial situation and that suppliers suffered.
The report added: "We have also observed a number of cases where the correct accounting practice does not appear to have been followed in relation to management of the income and expenditure position. Furthermore, practices in relation to management of the cash position were damaging to the reputation of the trust as frustrations amongst suppliers, and subsequently staff, were prevalent. In addition, Better Payment Practice Code performance [which records the proportion of suppliers paid promptly] was allowed to slip from 95 per cent to 39 per cent over an 18 month period."
The trust stopped reporting this measure and a number of others around cash flow and forecasting in September 2014.
The trust has refused to release the full report and the abridged version contained just two pages of retrospective findings into what had gone wrong.
Deloitte criticised the culture of the board and blamed non-executive directors for failing to hold the finance director and chief executive to account, calling Ms Chilvers "ineffective". The report noted the problems in the finance department could be traced back to the non-replacement of key finance department staff in 2013. It highlighted that the corporate governance role had been held by a very junior member of staff.
Chair of the finance and performance committee Gordon Mitchell has also stepped down.
Dr Harsent stepped down in March 2016 and Ms Simpson stepped down in September 2016.
NHS Improvement had made no comment to HSJ by the time of publication.
Trust chair Peter Lachecki said: "While the board deeply regrets the previous failings in governance, I am pleased that we are publishing this independent report today because it is an important step in ensuring that something like this can never happen again.
"The report describes very openly and honestly how we found ourselves in the position that we did but more importantly it sets out what we are doing going forward to recover the position and acknowledges the good progress achieved to date."
The trust's five year strategic plan, which it submits to the regulator, predicted surpluses of £4m and £6m in 2014-15 and 2015-16 respectively. NHSI has not confirmed who its relationship manager was with the trust over the period concerned.
The Independent Trust Finance Facility, which oversees applications for distressed finance funding, and which used to report applications quarterly after Freedom of Information Act requests from HSJ, stopped all public reporting after June 2016.