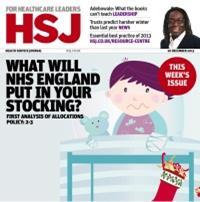 This week's issue of HSJ magazine is now available to read on our tablet app.
Please note: if iPad users have been experiencing difficulties recently with the app we recommend you delete it from the homescreen and download the latest version from www.hsj.co.uk/tablet-app
In this week's issue we examine the new allocations funding formula from NHS England. Plus:
New "models of care" for the NHS outlined in NHS England planning guidance
Trust chief executives expect this winter will be worse than last
Liverpool trust agrees "one of the lowest cost public-private deals ever"
Victor Adebowale on what the leadership books can't teach NHS managers
To find the latest issue, simply navigate to "This week's issue" on the app, or tap on the cover image on thehomepage.
HSJ's tablet app is free to download for both iPad and Android devices. iPad users can download it directly here, Android users will need to download it from the Google Play store.