This week's issue of HSJ magazine is now available to read on our tablet app.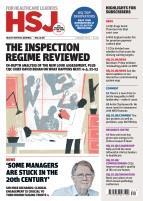 In this week's issue Care Quality Commission chief executive David Behan discusses why the regulator is scaling back its inspection ambitions. Plus:
Auditor Grant Thornton is dragged into Jill Finney libel case by the CQC
NHS England is criticised for the speed it is scaling down "premium" payments to Yorkshire GP practices
Hinchingbrooke Hospital withdraws offer to pay GPs a £50 "administration fee" for surgery referrals
Research has found the factors causing a sharp spike in accident and emergency demand at Cambridge University Hospitals Foundation Trust
Joan Saddler discusses why it is time to foster lasting change in leadership to truly encourage diversity
To find the latest issue, simply navigate to "This week's issue" on the app, or tap on the cover image on the homepage.
HSJ's tablet app is free to download for both iPad and Android devices. iPad users can download it directly here, Android users will need to download it from the Google Play store.