This week's issue of HSJ magazine is now available to read on our tablet app.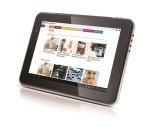 In this week's issue we launch HSJ's first ever commission, on hospital care for frail older people. Read more about how it will work, why this matters to chair Dame Julie Moore, and how you can get involved. Also inside:
Editor Alastair McLellan on what Simon Stevens' return as NHS England chief executive means for the service
Barbara Hakin cleared following 'bullying' claims
Lessons from the aviation industry on collaboration and safety
Outgoing Royal College of GPs chair Clare Gerada reflects on her tenure, saying the Health Bill made her ill
Our supplements this week: the latest Innovation Through Technology update, and a special guide for healthcare IT directors
To find the latest issue, simply navigate to "This week's issue" on the app, or tap on the cover image on the homepage.
HSJ's tablet app is free to download for both iPad and Android devices. iPad users can download it directly here, Android users will need to download it from the Google Play store.