This week's issue of HSJ magazine is now available to read on our tablet app.
Please note: if iPad users have been experiencing difficulties recently with the app we recommend you delete it from the homescreen and download the latest version from www.hsj.co.uk/tablet-app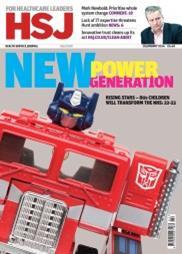 In this week's issue we examine how children of the 1980s can help to fast forward change in the NHS. Plus:
Northern groups lose out under the new allocations funding formula from NHS England
Senior managers' lack of IT knowledge could thwart ambitions for a paperless NHS
New NHS exam could help to improve the standard of doctors
Health Education England unveils national staffing plan
To find the latest issue, simply navigate to "This week's issue" on the app, or tap on the cover image on thehomepage.
HSJ's tablet app is free to download for both iPad and Android devices. iPad users can download it directly here, Android users will need to download it from the Google Play store.